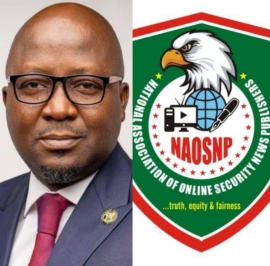 Politics
NAOSNP felicitates with Akosile on reappointment as CPS to Sanwo-Olu
CITIZENS COMPASS – THE National Association of Online Security News Publishers (NAOSNP) has felicitated with Mr. Gboyega Akosile on his re-appointment as the Chief Press Secretary to the Governor of Lagos State, Mr. Babajide Sanwo-Olu.
The Association's goodwill message, which was contained in a statement signed by NAOSNP's National Public Relations Officer, Mr. Eric Elezuo, quoted the President of the Association, Mr. Oki Samson, as saying that Akosile's reappointment is well deserved considering that he exhibited high level of professionalism and indepth knowledge of the job during his first tenure.
"We rejoice with you on your reappointment as the Chief Press Secretary to the Executive Governor, Babajide Sanwo-Olu, knowing that the professionalism and indepth knowledge of the job you exhibited in the last four years speak volumes."
The statement also lauded the governor for making the choice of Akosile, observing that he was bent on helping their administration achieve and deliver on their mandate as they did in the just concluded tenure.
"We also hail the governor's foresight in reappointing Akosile, who has not only delivered on his job description, but has done everything to ensure that the mandate of the administration is achieved and delivered," the statement noted.
A holder of degrees from three major universities in Nigeria; the University of Lagos, Obafemi Awolowo University and University of Ilorin, Akosile is a seasoned broadcaster, having plied his trade with notable broadcasting and communications companies including Bridgeworld Communications Company, where he functions as the Chief Executive Officer.
Skilled in journalism, Akosile has a demonstrable history in media, marketing communications, event management and public relations.