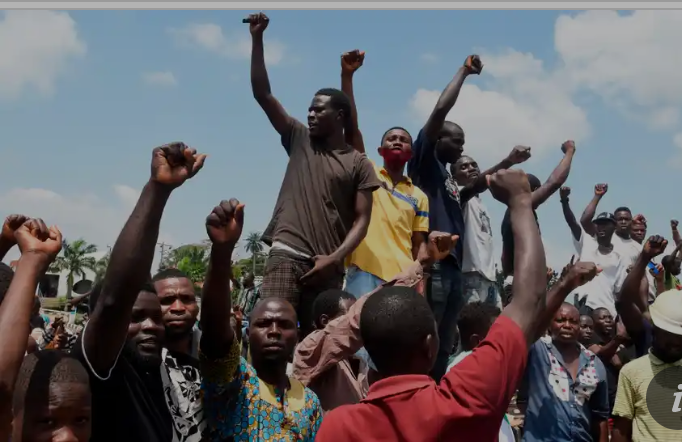 Security
Nationwide protests loom as NANS plans mass rally
By Ade Oye
The National Association of Nigerian Students (NANS), South-West Zone, on Thursday, said it will embark on a mass rally against rising cases of insecurity in Nigeria.
The mass rally according to the students will commence on Monday, May 24, 21, across the South-West Geopolitical zone in Nigeria, in conjunction with All Workers Convergence (AWC).
A statement jointly signed by Comrade Emelieze Andrew,
National Coordinator, AWC, Kowe Amos,
Coordinator, NANS Zone D and
Giwa Temitope,
Secretary-General, NANS Zone D expressed the concern of Nigerian students and workers over the security situation in the country and its resultant effects on the academic sector and employment.
The statement reads,
"We are afraid about further degeneration of the situation of things in Nigeria. We are also worried by the implications of this abnormality on the future of Nigerians. We are equally surprised that despite the EndSARS movement and despite all indications that we are sitting on a keg of gunpowder, our government has refused to improve on the situation,"
They lamented the worsening standard of living in the country caused by a failed system and bad governance, " The situation of things across the country have assumed an alarming proportion to the extent that our living conditions are daily drifting from bad to worst.
"Great Compatriots, we are tired of lamenting over the woes visited on us as a result of a failed system and bad governance in Nigeria. In our own country, our daily existence is not different from a war situation. Human lives no longer matter as our people are daily massacred and, most unfortunately, the killings are not abating. Our national economy is in comatose with our so-called government deliberately devaluing our Naira. The lives of the Nigerian people have been made meaningless and miserable to the extent that our people now resort to suicide. Development has been stagnated and there seem to be no hope of a better tomorrow,"
They called on students to start mobilising themselves for mass rally, "we are calling on all and sundry to start mobilizing for mass protest across the federation starting from now and culminating in mass action from 24th May, 2021 and the protests should continue until the people triumph.
'However, immediate protest can also commence across the country while all efforts should be made to ensure that it goes national on or before May 24. Our destiny is in our hands and we must not wait for anyone to mobilize us, we should mobilize ourselves'" they added.