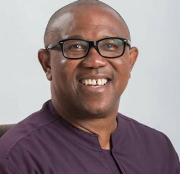 General News
NCC clarifies involvement in leaked audio of Peter Obi, Oyedepo 
CITIZENS COMPASS – THE Nigerian Communications Commission (NCC) has denied an allegation that it was involved in tracking and leaking of telephone conversation between the Labour Party Presidential candidate, Peter Obi and the General Overseer of Winners Chapel. 
NCC disclosed this on Tuesday, April 4, 2023, in a statement signed by the Director of Public Affairs, Reuben Muoka noted that  the it's reaction  might not be unconnected with reports in which some persons insinuated it (commission) into the tracking and leakage of the conversation between the Founder of Living Faith Church, Bishop Oyedepo and presidential candidate of the Labour Party, LP, Mr Peter Obi.
It partly reads: "The Nigerian Communications Commission (NCC) has been inundated with enquiries by the media on allegations of telephone "tracking" and "leakage" made against the Commission by some individuals and groups in the social and alternative Media.
"The Commission wishes to make the following clarifications: "The Commission denies the allegations in their entirety.
" By the provisions of the Nigerian Communication Act (NCA) 2003 and other extant Laws of the Federation, the Commission does not and cannot "track" nor "leak" telephone conversations of anyone.
" The Commission has reported the allegations, which we take seriously, to relevant security agencies for proper investigation and necessary action.
" The Commission restates its commitment to discharge its responsibilities to the Nigerian people in accordance with the provisions of the Constitution of the Federal Republic of Nigeria; the NCA 2003; and other extant Laws of the Federation; and global best practices.
'For the avoidance of doubt, the Commission denies these allegations and advises the public to disregard them."