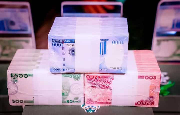 Business
New Naira notes are available, CBN insists
CITIZENS COMPASS- DESPITE scarcity of the redesigned N1,000, N500 and N200 notes in the country, the Central Bank of Nigeria (CBN) says it has made the notes available for them via the Automated Teller Machines (ATMs).
The Branch Controller, CBN, Lagos State, Mr Koyor Baribokola, gave the assurance when the apex bank took its sensitisation tour on the new Naira notes to Balogun Market, Lagos, on Tuesday, January 10, 2023.
He said the apex bank initially had a challenge as people were not depositing the old notes, but the situation had changed.
We are having much deposits now; this gives us the confidence to push more new notes into circulation and into the economy.
"We are making them available to you and you will have them if you haven't had them before. Please have the assurance that you are going to have them.
"We pushed out a lot last week and today we are continuing with it, part of the meeting was what delayed my coming out here.
"We set a date for the deadline for the complete change over that is Jan. 31, and for now, that stands. We have not extended or changed the time.
"So, between now and the Jan. 31, all the old 1,000, 500 and 200 notes you have in your possession, bring it to the bank and then take new ones," Baribokola said.
He encouraged stakeholders to be the apex bank's mouthpiece by spreading the message, and to protect and keep the new notes safe
Please have the assurance that the new naira notes were redesigned in the interest of all Nigerians including you so that you have them and you enjoy spending them and keep them safe, and as much as possible, try and also do electronic transactions.
"We encourage people to use our e-channels to do transfers, to spend, to buy and to do all that you need to do to share with your friends and your families," he stressed.
The Head of Union Homes Success Market, Oloyeola Bisi Balogun, commended the apex bank for choosing to begin its sensitisation with the traders.
She, however, urged the bank to carry out more awareness campaigns on the new notes, particularly at the grassroots.