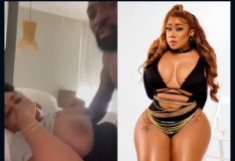 Entertainment
New twist over popular actress, Moyo Lawal's sex tape saga 
CITIZENS COMPASS —NEW twists emerged on Sunday, September 10, 2023, over the sex tape of popular actress, Moyo Lawal which surfaced online over the weekend. 
In a surprising twist to the sex tape saga engulfing controversial Nollywood actress, Moyo Lawal, an X account, @moyolawalofficial, purportedly belonging to her has emerged claiming that she was not the one in the tape.
 "The lady in this clip is not me please stop spreading fake news. That's not me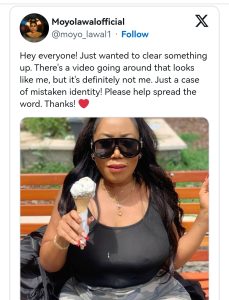 please, stop spreading misinformation"
However, the assertion that Moyo Lawal was not the one in the sex tape has been dismissed as it was claimed to be a parody account as her known account is @moyolawal.
Citizens Compass had reported that Moyo Lawal in an Instagram post after the sex tape leaked was unfazed as she came out to promote a new film project. Her stance has, however, not settled well with many of her fans and foes.
Chris Collection "Blood of Jesus is this not Moyo Lawal? What was she thinking allowing a man to record her while having sex?
Wet "Why would you let a man record you while having s3x? Especially you knowing you're a celebrity chai. Not even your husband sef, so how that man's face just shows maybe he wants to be popular with the Moyo Lawal sex tape who knows
Bambam wrote, "Moyo Lawal you're doing well
John Joshua, said, "All the celebrities have leaked their nudes for more publicity and connections that we don't know about."
Tina Omovo, wrote, "You celebrities are meant to be role models to your viewers (sic). You are the least person I expected that from."