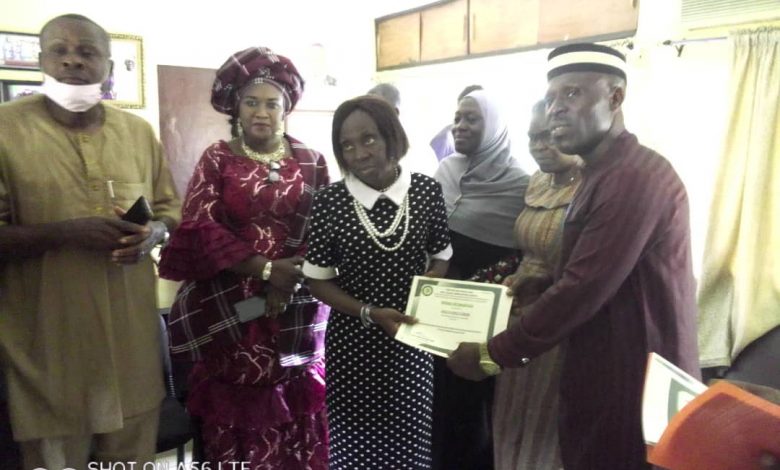 Community
NGO to train 100 staffs of Ikorodu LG, awards council boss
NGO to train 100 staffs of Ikorodu LG, awards council boss
A NON Governmental Organisation, Centre for Ethics and Selve Orientation(CESO), on Saturday, expressed readiness to train 100 staff of Ikorodu Local Government on ethics and leadership management and give awards to heads of department(HOD's) in the council.
The Executive Director, Mr Yakubu Saleh, made the promise during an award ceremony organised by the coucil management staff in Ikorodu, Lagos.
Salih said its objectives was to orientate top level staffs on ethics and conduct of good leadership in government organisations.
"Our NGO is in partnership with international organisation to train any performing local government in Nigeria with Ethics and leadership standard.
"In addition, This NGO is saddled with the quest of exposing corruption at the local government level.
"We have whistle blowers across all the 774 local governments in the country among which this lkorodu emerge as one of the best.
Ikorodu is adjudged to be the best among 10 local governments in Lagos having scored 82 points rated and 4th among the 774 LGs in Nigeria,"
he said.
According to him, Ikorodu LG is prudent in terms of staff discipline and welfare despite paucity of fund, good budget in management and implementation, quality assurance on projects done and respect of public procurement law.
Responding, Mr Wasiu Adesina, Council Chairman said his administration is working towards the council becoming the best local government in Lagos in terms of staff welfare and economic growth.
He said one of the focal points of his administration was to ensure that the community is used as a template for good work accessment to others and commended the NGO for finding him worthy of the award.
"I thank the NGO for the award and promise to engage in more infrastructural development projects for Ikorodu central.
"This gesture will not only boost our morale but encourage the council for better and robust economic growth for the community," he said.
The chairman was represented by the Vice-Chairman, Mrs Folashade Olabanji-Oba.
Recall that Citizens Compass reports that the Chairman was conferred with 'Integrity Icon of Nigeria' while the Vice-chairman was conferred with 'Ambassador of Ethics award'.
Citizens Compass also reports that Council Manager, Engr. Martins Odupitan, and heads of department also received ethics and leadership award.