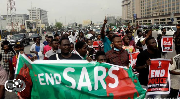 CITIZENS COMPASS– NO fewer than nine persons who arrested in Oyo State during the 2020 EndSARS protests have regained their freedom after two years in detention.
The Chief Judge of Oyo State, Justice Munta Ladipo Abimbola, on Tuesday released the protesters who were remanded at Agodi Custodial centre of the Nigerian Correctional Service.
The CJ made the order for their release as part of the 41 people he showed the prerogative of mercy during his second day visit to the Agodi prison as part of a three days tour of prisons within Oyo State in exercise of his power of release and prerogative of mercy to aid prison decongestion.
Justice Abimbola stated that with their release, everyone should lay to rest the trouble and heartbreak associated with the dark times in the country's history.
The nine, whose case was presented by the founder of a nongovernmental organisation, presented by Pastor Hezekiah Olujobi of the Centre for Justice Mercy and Reconciliation (CJMR) are Adeshina Muyiwa, Ikechuckwu Eze, Ariyo Sodiq, Ikenna Amaechi, Oyewole Olumide, Ariyo Afeez, Taoreed Abiodun, Adekunle Moruf, and Rasheed Tiamiyu.
They were arraigned for offences bordering on allegations bordering on murder, stealing of police rifles and burning of the police stations among others during the 2020 protest against the defunct Special Anti-Robbery Squad unit of the Nigeria Force.
Among those who regained their freedom was a 16′ year-old boy, Musa Taiwo charged for murder who explained that he fatally wounded a friend who wanted him to test a protective charm that repels gunshot and stabs.
He added that he never meant to kill him but was only helping him test the efficacy of the protective powers of his newly acquired charm as agreed.
The representative of a nongovernmental body that operates in the prison said he is the product of a broken home who lives with a drunk as a father and had no supervision or care, adding that the mother, who left her husband on sllrbzg4of domestic violence is willing to take him in and rehabilitate him.
The Chief Judge ordered his release to his mother on compassionate grounds and volunteered to take up the upkeep of the child.
Musa is the second child that the Justice Abimbola took up as wars during the decongestion exercise; he took up a nine year old girl during the Monday exercise.