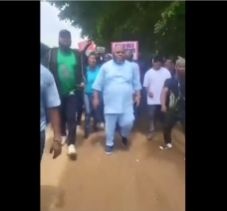 CITIZENS COMPASS – There is likehood that ongoing protests embarked upon by the Nigerian Labour Congress (NLC) may clash with that of Asari Dokubo,  a former militant leader and self-appointed protector of President Bola Tinubu as the later arrived Abuja on Wednesday.
He was said to have arrived with his enforcers to give backing to the president ahead of the protest strike called by the Nigerian Labour Congress, NLC.
A video of Asari Dokubo and some of his enforcers showed them along a road in Abuja and there are suggestions but not confirmed that they could advance to the route to be taken by the striking workers protesting the hardships arising from the policies of the government.
In the viral video Asari Dokubo is seen being egged on by his supporters as they demonstrated for Tinubu apparently against the protest by the NLC. Many of them are carrying banners in support of Tinubu with one saying that the mandate is from Allah.
Recall that the visit to Abuja was not the first time that Asari Dokubo would come to the defence of the president.
the presidential candidate of the All Progressives Congress, APC, Tinubu was almost faced with addressing a nearly empty stadium when he visited Port-Harcourt for his presidential campaign rally on February 15. The situation was saved by Asari Dokubo who mobilized his men and women to show presence at the stadium which was arguably the least crowd Tinubu addressed in a state campaign.
However, Tinubu went on to win the state following what has been said to be the political engagement he had with Governor Nyesom Wike.
This support for Tinubu by Asari Dokubo as against the NLC protest has so far been peaceful.
–GWG