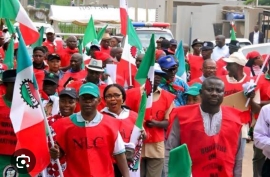 CITIZENS COMPASS—Organised Labour in Nigeria has suspended its nationwide industrial action which commenced on Tuesday, November 14, 2023 against the brutalisation of President, Nigeria Labour Congress (NLC), Joe Ajaero, in Owerri, Imo State. 
It was gathered that the labour unions reached an agreement to suspend the strike action at an emergency visual joint National Executive Council (NEC) meeting of NLC and Trade Union Congress (TUC).
The NEC in session agreed to suspend the industrial action following a plea by the National Security Adviser (NSA) Malam Nuhu Ribadu .
The unions had earlier held a meeting with the NSA who begged the workers to end the industrial action to allow for amicably resolution to the issues.
A source at the joint NEC meeting of the organised Labour told Blueprint that workers agreed to give Malam Ribadu benefit of doubt as he pledged to resolve the impasse.