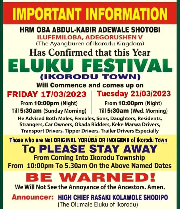 Community
No 'Eluku' Festival in Ikorodu- Palace
CITIZENS COMPASS– THE palace of the Ayangburen of Ikorodu, Oba Adewale Shotobi has debunked the information trending on the social media that the town is Organising 'Eluku' Festival on the day of Gubernatorial and House of Assembly elections on Saturday, March 18, 2023.
The palace made this known in a social media post on Friday, March 17, 2023.
The report which was well circulated on social media advised women and non indigenes of Ikorodu to stay indoor between the hours of 12 and 5.30am, on Friday, March 17 and Tuesday, March 21, 2023 as the town will be embarking on spiritual cleansing of the town.
However, the palace has debunked this describing it as a lie.
The Ayangburen urged members of the public to go about their businesses peacefully.
"IT'S A BIG LIE"
On Behalf Of H.R.M. Oba Abdul~Kabir Adewale Shotobi (The Ayangbunren Of Ikorodu) High Chief Murisiku Olabanji OreAgba (The Olumale Eluku Of Ikorodu) and All the Eluku Chiefs Of Ikorodu hereby disclaim the rumours posted on top on the said dates and tell everyone to go out to their normal respective duties/places.
Former chieftain of Peoples Democratic Party (PDP), Babatunde Gbadamosi who reacted to the social media report said, "Sorry For Any Inconvenience That The Information Might Have Caused.
Announcer- High Chief Murisiku Olabanji OreAgba (The Olumale Eluku Of Ikorodu Kingdom)
The chieftain who defected to Labour Party in 2022 said on his Twitter handle that the former Olumale Eluku of Ikorodu in the flier is deceased and a new one has been installed.
"As a son of Ikorodu, with roots in Itunpate, the home of Ẹ̀lúkú, and as a bonafide Ọmọ Ẹ̀lúkú mẹdẹn, imalẹ̀ afèlèjà, I hereby denounce this announcement in its entirety as a bad FAKE.
"It could NEVER have emanated either from the palace of the Olúmalẹ̀ Ẹ̀lúkú, or the palace of his Royal Majesty, the Ayangburen of Ikorodu.
"Moreover, the Eluku Festival had always traditionally been held in August and one can therefore surmmarise that this is not the Ikorodu Eluku Festival but a Bourdillon Eluku that must and will be ignored for it is an attempt to trivialise our cherished tradition on the alter of politics. "