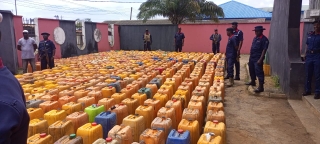 CITIZENS COMPASS- THE Nigeria Security and Civil Defence Corps (NSCDC), Lagos State Command, has recovered some gallons of petroleum product worth N4m, in Badagry area of the state.
The product was recovered at about 23:45hrs on Tuesday, September 27, 2022 by the Badagry Division.
Citizens Compass gathered that they were kept in 720 thirty litres gallons each along Yafin Creek while the suspects could not be identified.
Disclosing this in a statement on Thursday, the command spokesperson, Abolurin Oluwaseun said the operation was in line with the renewed and re – invigorated efforts of the Lagos State Commandant, Eweka Okoro, against all forms of economic sabotage and other kinds of criminality, in the State.
According to him, the recovery was made by the Marine and Anti – Vandal team of the Badagry Division, who were on routine surveillance and patrol,on the said day.
He quoted the Divisional Officer, Badagry Division, Lagos State Command, Chief Superintendent of Corps ( CSC ) Akinyemi Ayodeji, who led the operation, with his men saying the product was estimated at N4m at market value.
He said Commandant Eweka immediately ordered, the Anti – vandal and Exhibit unit of the Command, to evacuate the recovered oil products back to the Command's head quarters, in Alausa, Ikeja, in a bid, to carry out further intelligent investigation, on the matter and find a lasting solution to the ugly economic sabotage in the area and the state in general.
"The renewed operational and tactical strategy of the Command has now yielded positive results, in the fight, against oil pipeline vandalism in Lagos State and the Command promises zero tolerance to oil pipeline vandalism, smuggling of oil products, illegal oil dealings and other forms of economic sabotage in the state."