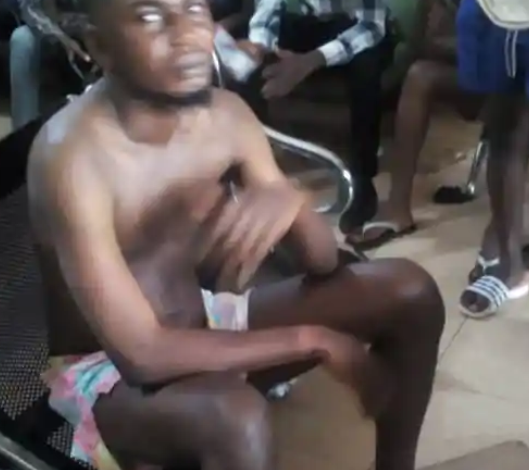 Education
OAU final year student arrested for stealing
A final year student of Obafemi Awolowo University, Ile-Ife, Bello Ibrahim, has  been arrested for stealing.
The student, popularlly known as "Great Bello" is a 500-level student of Computer Science and Engineering in the Faculty of Technology.
Upon investigation, he was led to his room where stolen valuables like fan, boxers, extension box, clothes, slides and mattress belonging to students in the Awolowo Hall of residence of the university were found.
The Chairman of Great Ife Students' Union Electoral Commission, Ajayi Oluwafemi, who disclosed this while parading the student, said he received a distress call from one of his people in Awo hall and immediately swung into action.
According to him; "After our findings and questioning, the thief confessed that he stole those items, but pleaded that it was a spiritual attack against him because he is from a polygamous home".
He further said, "Our union has a tradition of dealing with students who misbehave, and it is the "scientific maximum shishi", parading them across all 8 halls of residence and hereafter subjecting them to compulsory community service.
"The chairman confirmed that the thief was given 50 strokes of cane before being paraded to the halls of residence.
"As a union, we should make it a point of duty to re-establish our tradition and that has been done. It was unanimously agreed at the Students' Union Building (SUB), witnessed by more than 100 students that he should be given 150 strokes of cane and paraded throughout the halls of residence.
He will do the community service of cutting the grasses in the front of the SUB after the parade."
In his final words, he admonishes the students to abstain from uncultured behaviors during their stay on campus.
"Stealing and other criminal activities are frowned at on OAU campus. It is not encouraged.
All students should make it a sense of responsibility to report any criminal activities and suspicious movement on campus to the appropriate authorities.
We have a tradition that is not going to be bent for anybody. Any student caught will be flogged, paraded and mandated to carry out community service." He emphasized.