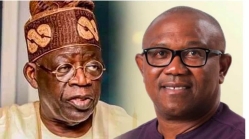 CITIZENS COMPASS – Primate Elijah Ayodele, the leader of INRI Evangelical Spiritual Church, has said "the truth" will be revealed following the ongoing petition at the Presidential Election Petition Court (PEPC) , advising the Court to consider a rerun or another presidential election to restore the credibility of the nation's electoral system.
This was contained in his annual prophecy book 'Warnings To The Nations' which was launched on Saturday, 1st Of July, 2023.
He explained that the president is ready to give it all it takes to ensure he retains his seat and that except God touches the hearts of the judges, they will dance to the president's tune. 
"This government will do so many things to see that this Tribunal has no place. The President is ready technically, spiritually, economically, and financially to see that whatever it takes to keep him in office no matter the charges of fraud in the election, such challenges will be met. It is only God that can remove him.
"I foresee that judges will be compromised on this matter unless God touches their hearts. No one except God can remove the President from office. He is desperate to do anything to see that nobody removes him.''
Primate Ayodele explained in the book that the actual winner will not be given the mandate to take over the government even though Nigerians will still face hardship in the present government.
He also blamed the disunity among opposition parties for the failure experienced in the last election.
"The truth will be known but the Judges will use legal terms to discredit the argument of the petitioners.
"INEC, BVAS, and IVR will be rubbished. The government of the day will remain and will continue in office. They will do so well but there will be consequences that Nigeria will pay for dearly.
"The actual winner will not be given the mandate to take over the government. Atiku and Obi ought to have merged and claimed victory. If they are not careful and united, it will affect subsequent elections in the country," he stated.
He, however, warned that if the Tribunal fails to do the needful, it will affect the image of the judiciary and the electoral body will no longer be seen as an unbiased empire.
'However, If the Tribunal does not do the needful it will affect the image of the Tribunal members. INEC will no longer be seen as an unbiased umpire as expected.
"INEC will be seen as a clearing house for all manners of election results. There will be confusion in the government circles because the judgment will be very clear to all. The best option will be to either go for a rerun or another election entirely or leave it the way it is," he added.