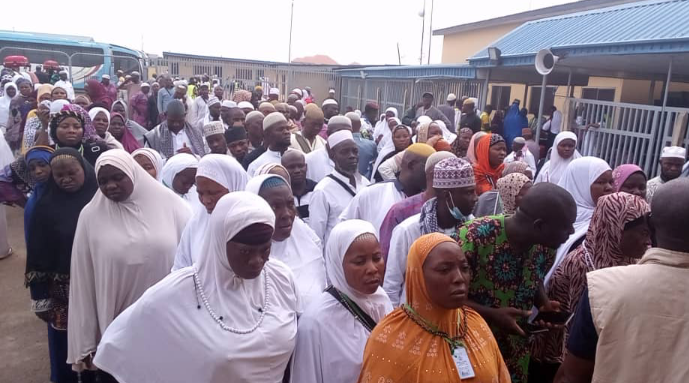 CITIZENS COMPASS– A total number of 400 pilgrims from Saudi Arabia have arrived Ogun State after the completion of hajj rites.
The pilgrims totaling 400 comprised of 167 males and 233 females are the first batch of pilgrims to arrive the state from Saudi Arabia.
The pilgrims arrived Muritala Muhammad International Airport, Ikeja, Lagos at exactly 10:16pm on Wednesday, July 20, 2022, with AZMAN Airline QZ2345.
Upon the arrival, an Ad-hoc Committee member, Sheikh Isqeel Lawal, who addressed journalists thanked God for the mercy and protection of the pilgrims throughout the spiritual exercise, stating that there was no case of death being recorded.
Sheikh Lawal, who doubles as the Consultant to the Governor on Islamic Affairs, commended Prince Dapo Abiodun for putting necessary machinery in motion for a hitch-free operation.
He appreciated the pilgrims for their patience and perseverance, and urged them to continue praying for the State and the country at large.
The Ad-hoc Committee member advised them not to deviate from what they have learnt during the pilgrimage, enjoining them to take the other four pillars of Islam seriously, as demonstrated by Prophet Muhammad.
Also speaking, the Executive Secretary of the Board, Alhaji Salau Dauda, who confirmed the arrival of the first batch, noted that the flight that would convey the remaining pilgrims had been scheduled without any further delay.
In their responses, Alhaji Rasak Mutiu and Alhaja Sanni Kehinde who were among the newly arrived pilgrims lauded the government for the welfare package put in place both in Nigeria and in Saudi Arabia, saying the effort of the Board had made the pilgrimage seamless.