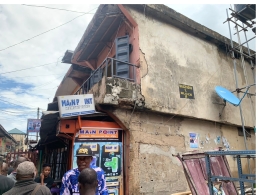 Community
Ohanaeze Ndigbo reveal findings about planned demolition of Alaba International Market
CITIZENS COMPASS – Ohanaeze Ndigbo Worldwide has disclosed its findings about reasons behind the Lagos State Government's  planned demolition of some buildings at the Alaba International Market in Ojo Local Government area of Lagos State.
The group said that the state government means no harm to its members. 
Dr Chiedozie Alex Ogbonnia, National Publicity Secretary of Ohanaeze Ndigbo Worldwide,disclosed this in a statement on Saturday, June 17, 2023 explaining that the issues affecting Igbos in Alaba international market are more of routine environmental issues concerning structures blocking water passage.
The statement reads, "The attention of Ohanaeze Ndigbo worldwide has been drawn to several fake publications circulating on social media alleging a decision by the Lagos State Government to take actions to victimize the Igbo citizens domiciled in Lagos.
" Since the disturbing news broke out, we have made investigations in order to establish the true state of affairs. One of the reliable sources, Hon. Comrade Chinedu Ukatu, Member, Lagos State Market Advisory Council and President Ndigbo-Amaka Progressive Market Association, stated that "the Lagos State Environment and Development Authority has been issuing warnings as regards the obstruction of some waterways".
Ukatu added: "All that happened at Alaba and the emergency visit by the state government officials were directly about those blocking the free flow of water through the provided waterways."
He said the directive is "not in any way related to plazas and shops on the markets or along the market road". 
He enjoined all and sundry to "disregard the statements and video messages trending on the Internet and admonished that such propaganda is not necessary for the Igbo at this time".
"Another Alaba resident, Chief Ikechukwu Okolo stated: "The truth is that some structures were erected on waterways, thereby obstructing drainages and causing flooding, especially during the rainy seasons. According to Okolo, "the owners of the affected structures have since been notified, for months, but as we can see, each time the executive order was to be effected, some corrupt government officials would get compromised, and the flooding challenge continues, until this time". Chief Evaristus Ozonweke, an Ohaneze chieftain, resident in Lagos, has also validated the above position.
The President General of Ohanaeze Ndigbo Worldwide, Chief Dr Emmanuel Iwuanyanwu, CFR (Ahaejiagamba) expresses concern over the lingering problems in Lagos. 
While urging the Lagos State Environment and Development Authority to exercise prudence and best considerations in discharging their duties, he asks the Igbo in Lagos to remain calm.
"He has therefore indicated a pressing need to visit Lagos and the South West in the next few weeks. He is very optimistic that during the visit, all the challenges confronting the Igbo in Lagos will be addressed."