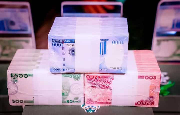 Business
Old naira notes expire on Tuesday -CBN
CITIZENS COMPASS– THE Central Bank of Nigeria has again said that the January 31 deadline for the validity of the old 200, 500 and 1,000 naira notes remains unchanged.
The apex bank disclosed this on Saturday, in a video where the CBN Governor, Godwin Emefiele, spoke at the just concluded Monetary Policy Committee meeting. He said, "Deadline for the return of old series of 200, 500 and 1000 naira notes remains January 31 2023."
"Unfortunately, I don't have good news for those who feel we should shift the deadline, my apologies.
"The reason is because, just like the president has said more than two occasions and even to some people privately, 100 days is more than enough for anybody who has the old currency to deposit it in the banks. And we took every measure to ensure that all the banks were and are still open to accept deposits."
Meanwhile, many Nigerians complained scarcity of the redesigned notes across the country.
As at 6pm on Saturday, some Nogerians who withdrew money from Automated Teller Machines (ATM), said the old Naira notes were being dispensed.
Customers of various banks have been having sleepless nights to deposit the old currencies with their banks.