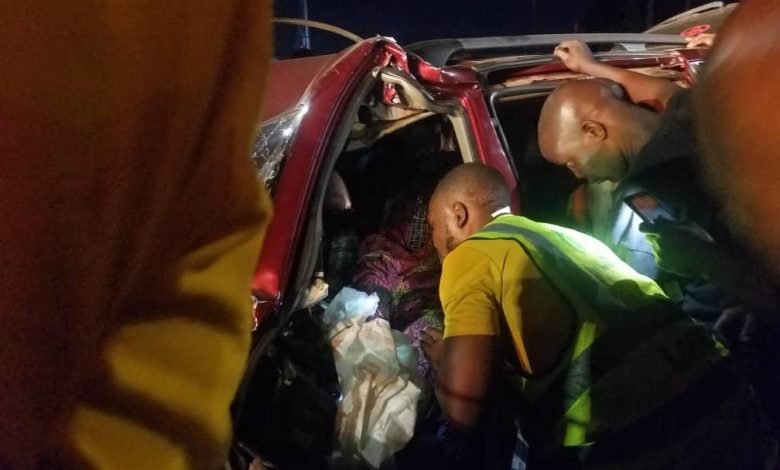 Community
One rescued as Sienna bus rams into truck in Lagos
ONE person was rescued, on Monday night, in Lagos, after a Sienna bus with number plate KJ 237 DN, rammed into a stationary containerised truck on Odo-Iya-Alaro Bridge. inward Maryland area.
The adult male was said to be trapped during the incident was was rescued by emergency responders after a distress call.
It was gathered that the incident did not record any loss of life. 
The Permanent Secretary, Lagos State Emergency Management Agency (LASEMA), Dr. Olufemi Oke-Osanyintolu while giving updates about the autocrash said the Agency received a distress call at about 10.07pm and activated its deployed equipment to the scene. 
He advised road users to apply caution while driving.
"In a just concluded operation transmitted to the Agency at 10.07pm via it's toll free 112 emergency line, the LASEMA Response Team, LRT, successfully rescued a trapped male adult involved in a road crash at Odo Iyalaro inward Maryland Bus Stop in an incident where the accident vehicle rammed into a stationary container truck. 
"Permanent Secretary of the Lagos State Emergency Management Agency, LASEMA, Dr. Oluwafemi Damilola Oke-Osanyintolu commenting on the incident has advised road users to apply more caution while traversing the ever busy roads of inner-city Lagos, especially at night, when he stated that people with poor vision should desist from driving at night.
"The LASEMA Permanent Secretary also revealed that a lot of avoidable accidents occur due to carelessness of road users who refuse to put necessary 'C' caution materials around broken down vehicles on the one hand, and over-speeding, distracted drivers, with poor night vision on the other hand. 
"Consequent upon the incident at Maryland, Preliminary Report emanating from the Permanent Secretary's  office has it that, "Upon arrival of the Agency's tiger team at the incident scene, it was discovered that a sienna vehicle with registration number KJ 237 DN ran into a stationed container truck with unknown registration number. 
An adult male was trapped in the affected vehicle and was successfully rescued by the Agency's officials using the Agency's light tow truck. 
"The affected vehicle was also towed off the carriage way to a layby nearby. 
"The road is now free of any impediment.
"Operations concluded, LRT heading back to base."