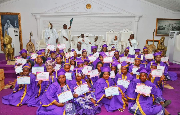 CITIZENS COMPASS- AS part of his 11-point agenda to assist the less privileged, Ooni of Ife, Oba Adeyeye Ogunwusi and one of his new queens, Olori Temitope, have empowered over 300 fashion designers in Ile-Ife and it's environs.
The event, courtesy of Ojaja Fashion Training Institute, was organised on Tuesday, at his ancient Ile-Oodua Palace in Ile-Ife.
Speaking at the event, Ooni expressed his heartfelt joy for the success of the initiative over the past five years.
He lauded Olori Temitope for being the facilitator via her nongovernmental organization; Hopes Alive Initiative (HAI) long before her emergence as an Olori in the Palace.
"I have known Olori Temitope for a long time and one thing no one can take away from her is her philanthropic gesture, she gives wholeheartedly without looking back. This is the basis upon which she established Hopes Alive Initiative, a nongovernmental organization that organizes this event." Ooni Ogunwusi said.
While addressing the beneficiaries who got trained in the art and trade of cloth making and also given start up equipment for free, Ooni Ogunwusi stressed that young individuals must be empowered with adequate skills and others necessary for them to have a better future.
He however applauded parents of the beneficiaries for the love and support which has brought them thus far.
The Co-chairman of National Council of Traditional Rulers of Nigeria (NCTRN) equally acknowledged the Coordinator of Ojaja Fashion Training Initiative and Ojaja Vocational Training School, Mr Samuel Adeyanju for modeling these lives for self-reliance.
Addressing newsmen, the Deputy Convener/CEO of Hope Alive Initiative (HAI), Olori Temitope Ogunwusi, applauded Ooni for being a responsible Royal Father who wants everybody to make it in life.
Queen Temitope said that her husband does not believe that something is impossible, so this motive promoted him to always helping the downtrodden both in academics and non-academics.
"If anybody wants to attribute anything to Ooni, his humanitarian service, for he loves all and sundry with the belief that all fingers are not equal. He fulfills God's will of meaningful people to assist the less privilege, that's why I see him as my number one role model.
"My being here is the fulfilment of the will of God, because helping others is my passion and I am assured that this would assist me to fulfill my dream when seeing Ooni daily having compassion on the poor." She stated.
She charged other philantropists to stand up and help others by emulating Ooni, knowing that everyone would give an account of him/herself on the judgement day.
The CEO admonished the graduands not to relent on tailoring level, but to aspire more on fashion designing so as to take fashion to amiable levels.
She appealed to them to see the training as a fundamental knowledge of what they should ought to be, for with God by their side, they would move mountains.