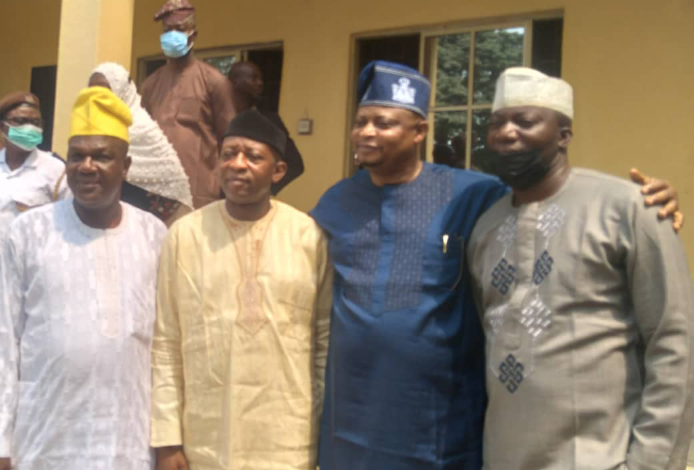 Community
Oversight function: Lagos lawmakers urge Ikorodu LG to upgrade customary courts
MR Victor Akande, Chairman, Lagos State House of Assembly Committee on Judiciary, on Wednesday urged Ikorodu Local Government to upgrade the Customary Courts in the area.
Akande, representing Ojo Constituency 1, gave the advice during the oversight visit to courts in Ikorodu local governments and Local Council Development Areas (LCDAs) in the zone.
Citizenscompass reports that other members of the House Committee were Hon. Jude Idimogu, Oshodi Isolo 11, the Secretary, Mr Samsondeen Oladega, and other officials of the state Ministry of Justice.
He said that the lawmakers would go back to the house with their findings and look into making laws that would benefit the courts with a view to helping the local government generate revenue from some of their activities.
"We are going round now to look at conveniences of all the customary courts in Lagos.
"In the course this, we will look at the problems, identify them, take them back to the house and see how we can translate them to their benefits," he said.
According to him, customary court do not have the jurisdiction on environmental sanitation offences where they can generate more money.
Akande said that customary courts arbitrate in marriage but they do not have the powers on who takes custody of the child.
He said that the leaders of the councils should also look inward on how to generate revenue and help the councils to develop their infrastructure.
Akande commended Ikorodu Local Government on the infrastructural development and urged the council to find ways to increase its internally generated revenue.
He warned residents against crime, adding that the committee would encourage the councils to raise fines on juvenile offences and tax evasion so that people would desist from it.
Akande said they would go back and look at all the laws they had within their purview and see how best they could help them develop the local government and the Local Council Developmental Areas.
"Think as if there is no money coming from anywhere and do it in such a way that will not be detrimental to the development of the area and to the people.
"We equally encourage our people not to commit crime, there are little offences like juvenile and evading tax, we will tell them to add more fines.
"Ikorodu Local Government is an old council, they have everything needed, the only thing is just to upgrade all the furnitures and the rest," he said.
The Chairman, Ikorodu Local Government, Mr Wasiu Adesina, in his response, commended the lawmakers and promised to collaborate with them to development Ikorodu.
He said the council ' would start working on all the observations made by the lawmakers immediately.
Caption:
FROM left: Chairman, Ikorodu Local Government, Hon. Wasiu Adesina, Hon. Jude idimogu of Oshodi Isolo2, Hon. Victor Akande of Ojo 1, and Secretary to Ikorodu Local Government, Mr Afini during the visit.