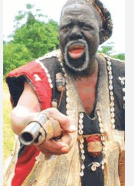 CITIZENS COMPASS— Lifeline seems to come the way of veteran actor, Ojo Arowosafe, also known as Fadeyi Oloro, as a UK – based pastor, Tobi Adegboyega, has donated the sum of N3m as part of his medical treatment..
This will enable the actor to continue  medical treatment.
The actor had earlier appealed for financial assistance from Nigerians during a live Instagram session with Daddy Freeze.
Adegboyega, who is the senior pastor of Salvation Proclaimers Anointed Church, popularly known as SPAC Nation, expressed his admiration for the ailing actor, describing him as one of Africa's major legends.
He revealed that he had watched the actor on screen while growing up and was moved to offer him financial assistance.
During the live session with Daddy Freeze, Adegboyega offered to give the full amount needed for the actor's treatment and promised to continue taking care of him.
The gesture by Pastor Tobi Adegboyega to Fadeyi has been widely applauded by Nigerians, who have praised him for his generosity towards the veteran actor.
Many have also commended him for using his platform to make a positive impact on people's lives.
A user wrote: " Omoh, the gift to Fadeyi Oloro is another example of Adegboyega's philanthropic work, as he is known for his charitable acts towards the less privileged in the society. His generosity and commitment to helping others serve as an inspiration to many Nigerians