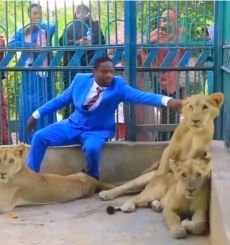 CITIZENS COMPASS — The social media was awash yesterday, when a pastor posted a video of where he locked himself up with two growing lions
The video has left tongues wagging.
The video captured the cleric saying the act was to show to his congregation that he has divine protection.
It was gathered that the cleric took his church members to the venue to witness the 'miracle' and show that God is with him like in the biblical story of Daniel, who was saved by the beasts by God himself.
The clip revealed the pastor wearing a bright blue suit, stroking the growling lions in their enclosure.
The MP said: "I volunteer to take him to the Maasai Mara please, all expenses paid. We look for the lions and he can go walk with them."
One local agreed and commented: "I challenge him to do that at Maasai Mara!"