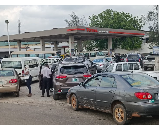 CITIZENS COMPASS – PREMIUM Motor Spirit otherwise known as petrol now sells for N200 and above in some parts of Lagos State just as long queues have resurfaced in some areas.
These became noticeable since Monday although the Nigerian Midstream and Downstream Petroleum Regulatory Authority (NMDPRA) has appealed to Nigerians not to engage in panic-buying of the product.
It was learnt that many filling stations across the state experienced unusual queues of motorists and end users of the product.
Our correspondent observed that the queues which started on Monday extended till Tuesday evening as motorists were seen lamenting the situation.
in some of the filling stations visited, the product was being sold between N200 and N250 though a price tag of N165 was on display as motorists were seen begging to be attended to.
Some transporters said location determines the price as the product was sold at N195 in some Lagos suburbs.
The Chief Executive Officer, NMDPRA, Farouk Ahmed, said there is no cause for alarm.