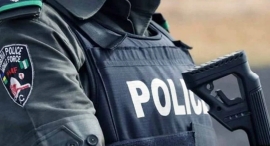 Community
Police arrest Islamic cleric threatening Isese adherents in Kwara 
... Suspect becomes sober
CITIZENS COMPASS — THE Kwara State Police command has arrested an Islamic cleric earlier declared wanted for allegedly threatening some traditionalists in the Ilorin area of the State. 
The cleric, Alfa Salah Ayodeji, has since been paraded in Ilorin. 
Speaking during the parade yesterday, the Alfa pleaded for forgiveness, saying he did not know that his action was dangerous and capable of causing breach of peace.
Contrary to what he said in the video, Ayodeji, who appeared sober and apologetic, said the state Commissioner of Police, Ebunoluwarotimi Adelesi, did not send him to threaten the traditionalists nor was she aware of his visit to the shop of the traditionalists.
Fielding questions from journalists at the Police headquarters, Ismail said he didn't realise that what he was doing was dangerous and could cause religious war in Ilorin.
The Alfa, who said he owned two Quranic schools in Ilorin and Ogbomoso, Oyo State, said he apologised to the couple, the traditional religion worshippers, the Muslim groups and members of the Alaran family, where he went to threaten the traditional religion devotees.
According to him, "It is true that I went to Alaran compound to threaten and warn Tajudeen and his wife about Isese religion, which I think they were worshipping. I didn't know that what I was doing was dangerous and could lead to a religious war.
"I want to beg all Nigerians to pardon me for what I had done. I'm begging Tajudeen, the Alaran family and the Alfas for what I had done. Nobody sent me, it was when the video went viral that I realised that what I had done was wrong."
He called on Nigerians, the state government, the state Police command and the traditionalists involved in the matter to forgive him, saying he had no police record before now.
The state Commissioner of Police, Mrs. Ebunoluwarotimi Adelesi, had on Monday ordered the suspect's family to produce him on Wednesday deadline.
She described the suspect as a terrorist, who was on the wanted list of the state Police Command.
The police boss, who reprimanded family of the cleric for not enlightening their son against what she described as his criminal behaviour, said his attitude was capable of causing breakdown of law and order in the state.
The Police commissioner also berated Alaran family for driving the couple out of the area and for refunding the rent of the shop to the couple against their wish.
Recall that the Alfa was captured in a viral video threatening some Isese adherents to vacate the area or face the music.
He was captured issuing quit notice to the adherents on the premise that the State Commissioner of Police was aware of his mission.