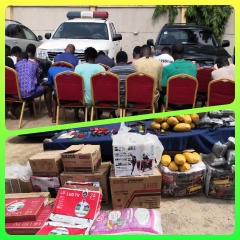 By Bose Adelaja
CITIZENS COMPASS – Lagos State Police Command has arrested a wanted notorious and deadly cultist, Olayinka Qudus, popularly known as Koko Senior, in Ikorodu area of Lagos.
The suspected leader of Aiye Confraternity, was arrested on Thursday, May 18, 2023, at about 1020hrs. 
He was paraded alongside 39 other suspects yesterday, at the Officers Mess, Ikeja, Lagos.
Parading the suspects on behalf of the state Commissioner of Police, Idowu Omohunwa, Lagos State Police, spokesperson, Lagos State Police Command, Benjamin Hundeyin said 'Koko Senior' was arrested alongside others following an intelligence report. 
" On 18th of May 2023 at about 1020hrs, intelligence report gathered revealed that a wanted notorious and deadly cultist known as 'Koko Senior' who was involved in the killing of rival cult group members and innocent residents during cult related clashes was spotted at his hideout in Ikorodu area of Lagos state. 
" Police operatives of the command swung into action and arrested one Ibrahim Saka 'm' aged 26, Olayinka Qudus 'm' aged 22, Taofeek Agoro 'm' aged 33, Babatunde Otasanya 'm' aged 23, Cletus Monday 'm' aged 31 and Bamidele Godwin 'm' aged 28. 
" Investigation revealed that Olayinka aka Koko Senior is the number one in rank of Aiye Confraternity and was initiated in 2016 while other suspects confessed to being members of the said group. 
" Effort is ongoing to arrest other members of the group.
Other suspects paraded by the Command included Monday Alfred 'm' aged 32 and Laitan Apanpa popularlly known as Emir 'm' aged 34 who were arrested on Wednesday, May 17, 2023, at about 1715hrs. 
Hundeyin said they were paraded for conspiracy, unlawful society and possession of human parts. 
He said the duo, sighted on a motorcycle with number plate, JGB 276 VU were intercepted by officers on patrol. "Upon searching, two decomposing human hands, one Techno and one Vivo phones were found in their possession. While Laitan was able to escape initially, operatives of the command located him at his hideout at Ibode area of Ikorodu where he was subsequently arrested. Investigation revealed that both suspects are members of Aiye Confraternity while Laitan, was a murder suspect detained at Ikeja whom escaped from cell during ENDSARS protest. 
" Suspects confessed to have gotten the hands from his friend. Effort is in place to arrest other members of the gang,"
Also paraded for conspiracy and armed robbery were Saobanor Adesina 'm' aged 18, Boluwatife Oluwapelumi 'm' aged 23 and Idowu Oluwapelumi 'm' aged 20. 
" On 7th March, 2023 at about 0330hrs, a gang of armed robbers namely Saobanor Adesina 'm' aged 18, Boluwatife Oluwapelumi 'm' aged 23 and Idowu Oluwapelumi 'm' aged 20 attacked residents of Jokogbola Estate, Agbede Ikorodu Lagos State and carted away motorcycles, electronic, jewelries, laptop, nine cell phones and case. " Diligent investigation led to their arrest, while the following stolen items belonging to the victims were recovered from the suspects: iPhone 11 pro max, iPhone 7 and two  Samsung A02S, " 
Still about arrests in Ikorodu, the spokesperson said, " On 10th of May, 2023 at about 1300hrs, intelligence report gathered revealed that a wanted notorious and deadly kidnapper was spotted in Orioke Area of Ajegunle Ikorodu. 
" Operatives of the command were dispatched to the area where one Shokki Ebis aka Nero 'm' aged 33yrs was apprehended with one locally made Dane gun, one live cartridge. In the course of investigation, the suspect confessed to being a member of a kidnapping syndicate terrorizing Ikorodu down to Redeem Christian Church of God back gate in Ogijo area of Ogun state. Investigation is ongoing to arrest other members of this syndicate." 
The Command also paraded a grandmother for receiving stolen goods from suspects. 
The spokesperson said among other  recovered items were 16 live ammunition, seven cars, one motorcycle, two axes, nine generators, seven TVs, two grinding machine, two knives, one home theatre, 27 phones, hard drugs and decomposing human hands were recovered from the suspects.
He said: "In the case of conspiracy and armed robbery on April 16, 2023, an Uber driver was robbed of his vehicle at gunpoint by one of his passengers.
"While the driver courageously grabbed and held onto one of the suspects, a 44-year-old man, Adesiji Oluwatobi and 26-year-old Oluwafemi Osoja went away with the vehicle. Further investigation led to the arrest of Osoja in his hideout and one locally made pistol with five live cartridges was recovered from him." 
He said the police also recorded laudable achievement in Igando area, " On 21st of May at about 0000hrs, a gang of armed robbers namely: Ugochukwu Onyenuforo 'm' aged 30, Ramon Ogundele 'm' aged 32, Yaro Ndudu 'm' aged 25 and Abiodun Usman 'm' aged 30 wielding guns and other dangerous weapons were robbing people of their property at a bar in Igando area of Lagos State. 
" Upon receipt of information, operatives swiftly mobilized to the scene where the robbers were arrested. Items recovered were three cut-to-size locally made guns, ten live ammunition, two knives, twenty-one different makes of phones, two international passports and one wristwatch, 4 cartier glasses, plyer,"
The spokesperson said the arrests, were some of the Command's achievements in the fight against crime and criminality within Lagos State in the past one month. 
He said a total of 40 suspects who have engaged in varying crimes including armed robbery, stealing, kidnapping, cultism, and other crimes were paraded.
In conclusion, he said the suspects would be charged to court immediately after the parade just as arrested drug syndicates among the suspects would be handed over to National Drug Law Enforcement Agency (NDLEA). 
"The Commissioner of Police, Lagos State Command, CP Idowu Owohunwa, FBINAA, uses this medium to assure Lagosians that the command would continue to do everything operationally possible to ensure that crime and criminality is brought to the barest minimum in the State." He added.