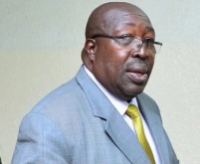 Foreign
Police bodyguard kills minister
CITIZENS COMPASS – Col (Rtd) Charles Okello Engola, Uganda's Minister of State for Labour, Employment, and Industrial Relations, was fatally shot in a Kampala neighborhood by his bodyguard.
The incident occured in the early hours of the morning, of Tuesday, May 2, 2023 in the residence of Colonel Okello Engola, who was the deputy minister for gender and labor.
Fred Enaga, the police spokesperson, stated that Engola was shot at close range by his bodyguard, while getting into his car to leave for work at his Kyanja home. Private Wilson Sabiti has been identified by the police as the bodyguard.
Enaga revealed that when Sabiti fired four close-range rounds, instantaneously killing Engola, he left the scene to the trading area at Kyanja, Ring Road, where he entered a salon and shot himself dead.
The police is yet to establish the motive as to why the body guard shot the Uganda minister dead. Enaga said a team of detectives has been dispatched to the crime scene team for further investigations.
While in the military, Engola was the commander of the UPDF 501 Brigade, at Opit, in Gulu District. He was then promoted to the rank of colonel and retired from the military in 2007.
During his political career, he served as Oyam District LCV Chairperson on the ruling NRM party ticket for two terms. In 2016, he was elected Oyam North Member of Parliament and re-elected in 2021. He also served as State Minister of Defence from 2016 until 2021.