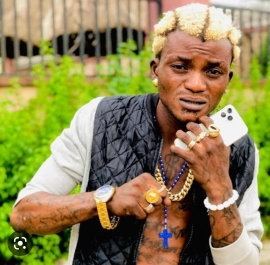 Entertainment
Police explain next steps on popular singer, 'Portable'
CITIZENS COMPASS – The Nigeria Police Force on Saturday, said that controversial singer Habeeb Okikiola, popularly known as Portable, will be charged to court on Monday.
The Police said the singer faces a charge of over six counts, following his arrest on Friday, March 31, 2023.
Recall that operatives of the Ogun State Police Command arrested the singee after expiration of 72-hour ultimatum given to turn himself in.
He was also accused of not honouring invitations on five different occasions.
However, the Force Public Relations Officer, Muyiwa Adejobi, in a series of tweets, disclosed details of the case against Portable.
This comes after viral videos on Tuesday showed the musician in a confrontation with some policemen deployed to the recreational centre he owns in Ogun State.
Adejobi made the revelation in response to a tweet accusing the police of refusing to apprehend or interrogate Musiliu Akinsanya, better known as MC Oluomo, over his comments deemed to be ethnically charged
"I am sure u are very awake as i have addressed MCs case, but portable has more than 6 count charges to attend to, apart from resisting arrest and injuring a police man," he tweeted.
He will be charged to court for beating up a guy in otta, who fired a petition to CP Ogun. There are many pending cases of assaults on people and attacks, and he will be investigated bc pple have complained against him.
"So, there is no sentiment in law, let him appear in court, and allow the judge to listen to the charges against him. He has no constitutional immunity anyway." I am sure u are very awake as i have addressed MCs case, but portable has more than 6 count charges to attend to, apart from resisting arrest and injuring a police man. He will be charged to court for beating up a guy in otta, who fired a petition to CP Ogun