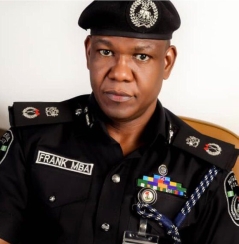 Security
Police promotes Frank Mba, others 
CITIZENS COMPASS – THE Police Service Commission (PSC) has approved the appointment of two Assistant Inspectors General of Police, Frank Mba and Bala Ciroma, as Deputy Inspectors General of Police (DIG).
This was the outcome of the 21st Plenary Meeting of the Commission on Friday, June 16, 2023. 
Mr Ciroma will replace former DIG Ali Janga, who has retired from service and had represented the North-east geo-political zone in the police management team.
As the most senior officer from the zone, he will henceforth represent it in the management team.
Mba, a former spokesperson of the Force, will represent the South-east zone and replace DIG John Amadi, its representative, before his retirement.
The commission also approved the promotion of 14 commissioners of police to the next rank of assistant inspectors general of police and 22 deputy commissioners of police to the substantive rank of commissioners.
The new AIGs are Abubakar Lawal; Alhassan Aminu; Abdul Umar; Shettima Zannah; Ebong Eyibio Ebong; Adepoju Ayiinde Ilori, and Okon Okon Effiong.
Others are; Echeng Eworo Echeng; Susan Ukpanukiema Horsfall; Bankole Lanre Sikiru; Oladimeji Yomi Olarewaju; Sani Gwarzo, and Odama Paul Ojeka.
The 22 deputy commissioners of police promoted to the rank of Commissioners are; Abibo Deinma Reuben; Thomas Abraham Nabhoni; Wakil Abdul Salamai; Enyinnaya Inonachi; Ronke Nurat Okunade; Adekunle Ismail Olusokan; Hassan Abdu Yabnet; Festus Chinedu Oko; Aminu Baba Raji; Omolara Ibidun Oluntola; Akoh Benedict Gabriel; Alamutu Abiodun Mustapha; Bafda Magaji Jahun, Ahmadu Tijani Abdullahi; and Mohammed Mu'azu.
Others are Bretet Emmanuel Simon; Ihebom M Chukuma; Shettima Mohammed Qurtu; Olatokunbo Maxwell Olabisi; Yusuf Mohammed Lawal; Monica Leo, and Abaniwonda Surajudeen Olufemi.
The Commission also approved the promotion of 24 assistant commissioners of police to the next rank of deputy commissioner.
They include Ezekiel Ibrahim, Project Monitoring Unit, Force Headquarters, Abuja; Mohammed Shamsudeen, Assistant Director, OPS, Kaduna (NCCSALW); Khan Salihu Usman, Networking Admin ICT FHQ, Abuja; Wan Mantu Chongs, Commander PMF 19 Portharcourt; Baba Lawan Audu, Area Commander, Exeter Akwa-Ibom State Command; Okon Etim Asuquo, Department of Operations, Benue State Command; Louis Chike Nwabuwa, Department of Operations, Plateau State Command; Samuel Osman Onoja, Police College Oji River; Sa'ad Yahaya and Ibrahim Jibrin, Commanders 76 PMF, Nsukka and 56 PMF Ogoni amongst others
The Commission also approved the promotion of 39 chief superintendents of police to assistant commissioners of police.
They include Joseph Udoh; Nze Helen Omeba; Uduaku Isaac Udom; Anthony Francis Etim; Benjamin Kelembus Bello; Abdullahi Idris Abubakar; Ogbonnaya Nwota, and Daiyabu Mohammed Ahmed, among others.
It also approved the acting appointment of CSP Akande Bamidele to acting assistant commissioner of police.
Both AIGs, 14 CPs and 22 Deputy commissioners of police, appeared before the commission in plenary for an interactive session, a requirement for their new ranks.
The Plenary Meeting also approved a new Instrument of Delegation on delegated powers to the Inspector General of Police