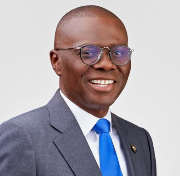 Politics
Sanwo-Olu in church shaking worshippers' hands
CITIZENS COMPASS– A video has surfaced online where Lagos State Governor, Babajide Sanwo-Olu was captured standing at the entrance of a church and giving compliments to church worshippers after a Sunday service.
The video revealed that the governor attended Sunday service at the Lagos branch of Harvesters Church.
The visit and the action of the governor in shaking hands of worshippers as they came out has elicited reactions on social media with users assuming this as a move by the governor to woo voters ahead of the March 18, 2023 governorship election.
Some social media users have since commented on the action.
Sanwoolu is the most desperate politician alive today. He can do anything to get reelected. I pity him sha. It's really good to have a formidable opposition. It helps to put those in power in check. If he's reelected, he would do better (i can't place a bet on this though).
If he wins, and you call him out for rigging the election, He would deny and tell you all that he won the heart of the people for being generous during his campaign 😂😂😂😂 At least, he has videos to show for it. Ogbon, Sodik 😂
He's doing too much already and now appears desperate and silly.. Advise him to rest and let the luckiest n best candidate win.