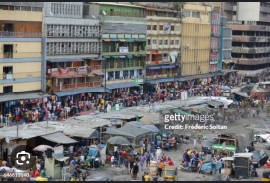 Community
Sanwo-Olu issues directive on Jankara Market 
CITIZENS COMPASS —It is no longer business at Jankara Market, Lagos Island as the Lagos State Governor, Mr Babajide Sanwo-Olu, has ordered that all illegal structures surrounding the market, especially the ones obstructing drainages and canals will be demolished. 
The Governor gave the directive on Sunday, October 8, during a "drainage and regeneration tour of Lagos Island expressing sadness over the outright disregard of environmental laws in the area. 
He said, "I am using this information as a notice to all of the illegal squatters and those that are doing illegal activities there, that it is an official notice again that we will take and clean up the entire market and we will start fully with Bombata Market and Jankara Market. It's going to be ground zero," the governor said.
Speaking on the illegal dumping of refuse noticed in the area, Sanwo-Olu said, "I am using this channel again to appeal to our citizens that we will not tolerate it. There will be zero tolerance and as from tomorrow, the Ministry of the Environment will start giving demolition notices to all of the stores that have been built on the drainage.
As part of our administration's plan for the regeneration of Lagos Island, I went on an on-site inspection of some areas in that axis that were affected by floods.
"I visited Jankara, Ojo Giwa, Oroyiyin, Idumagbo and Pelewura markets. What was sadly visible during this inspection was the outright disregard for their well-being, the environment and their surroundings through the indiscriminate dumping of refuse, abuse of drainages and illegal construction of shops and market stalls by some residents.
"I have, therefore, issued a one-week quit notice to the affected people. I promised residents of the government's plan to regenerate the entire place for the good of the residents and the general populace."