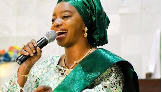 By Abimbola Joseph, LAGOS
CITIZENS COMPASS– OVER 1,000 elderly and vulnerable residents of Ikorodu, Lagos, have benefitted from free medical screening in the area courtesy of Lagos State Governor, Babajide Sanwo-Olu.
At the exercise which took place on Tuesday, March 7, 2023, at Ikorodu Town Hall, wife of the governor, Dr Mrs Ibijoke Sanw-Olu called on residents to take their health very seriously and embrace the Ilera Eko health insurance scheme.
Sanwo-Olu made the call during the medical screening conducted by staff of Ikorodu General Hospital at Ikorodu town hall, Lagos.
Citizens Compass reports that the free medical screening conducted on residents includes Hypertension, Diabetics, Laboratory investigations, distribution of Eye glasses and Referral to general hospital for surgical operations.
Free health insurance card was also giving to some patient during the screening.
She commended the people of Ikorodu for their votes during the presidential election and encouraged them to come out enmass during the governorship election to ensure victory for candidates of All Progressive Congress (APC)party for more democratic dividends.
People should ensure they take their health condition very seriously because health is wealth.
"Today I came here to thank the people of Ikorodu for their overwhelming support and votes during the presidential election.
"I want you to do same during this governorship election and this time it must be 100 per cent vote for Sanwo-Olu and Obafemi Hamzat including all the Assembly candidates of APC," Sanwo-olu said.
Also speaking, Dr. Ademuyiwa Eniayewun, Permanent Secretary, Health Service Commission said the medical outreach to help people with medical challenges who could not afford the money.
Eniayewun added that the mission was also meant to provide platform to interact with people and have family discussions about their community so that the good work of Sanwo-Olu can continue.
Earlier, Dr Taiwo Hassan, Medical Director, Ikorodu General hospital commended the governor for given support to health sector as one of the focal point of his THEME agenda through Ilera Eko health scheme.
According to the MD, Gov. Sanwo-Olu mandated all the heads of general hospital in the state to periodically go out and conduct medical mission for those who can not come to the hospital to be treated on life threatening diseases.
This is not the first time we are conducting this screening, recently a huge number of 890 patients were attended to and this is a huge success.
"Today, the governor graciously said we should give Ilera Eko package to 1000 citizens and indigenes if Ikorodu under the Ilera Eko health insurance scheme for one year and this is large," he said.
Also the Ayangburen of Ikorodu, Oba Kabiru Shotobi, thanked the governor and the initiator of the health programme and call on residents to support and vote for APC during the governorship election for continuity and more dividends of democracy.
"I have summoned all the Baales of different communities in Ikorodu, during our meeting I direct them to ensure they deliver their communities votes to APC.
The monarch who was represented by Chief Adewale Elesho, former Lagos State commissioner for information appealed for consistency of the programme so that more people would benefited in Ikorodu.
"They should vote for Sanwo-Olu and Hamzat with all Assembly candidates of APC for more dividends of democracy in Ikorodu," he said
One of the beneficiaries Mrs Monsurat Odumosu, encouraged residents to key into the Ilera Eko health insurance scheme for good and affordable health services.