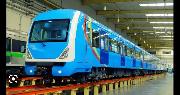 CITIZENS COMPASS- Relief underway the commuters who patronise Bus Rapid Transit (BRT), Lagos ferry and train services across Lagos State as the state governor, Babajide Sanwo-Olu has announced reduction in fares by 50 per cent.
He made the announcement while addressing journalists at the Lagos House in the Marina area of the state on Wednesday, February 8, 2022.
The Governor said the price reduction in all state public transportation on the road, and waterways system would take effect next week.
Sanwo-Olu noted that the BRT,  has been directed to charge 50 percent of the current fares to reduce the hardship of the naira swap on residents.
"To further support Lagosians to weather these stormy days, I hereby announce the following measures: A 50% cut in fares on all our BRT buses, LAGRIDE taxi-scheme, First Mile and Last Mile buses, and Lagos Ferry Services (LAGFERRY)," the governor said.
"This will take effect from tomorrow for the next seven days. We will push out more Cowrie Cards to enable more Lagosians to get onboard our services."
The governor also stated palliative items will be distributed to residents as at Thursday, February 9, 2023, through religious leaders and non-governmental organisations, to assist those affected by the current situation.
While directing that food banks be set up in various parts of the state to cater for the vulnerable, the governor added that the state government will distribute food stuff to various communities.
The governor commended the military, the Department of State Services (DSS), the police, the Civil Defence and Neighbourhood Watch for their service and diligence in the state.
He enjoined Lagos residents to go about their lawful business without fear.