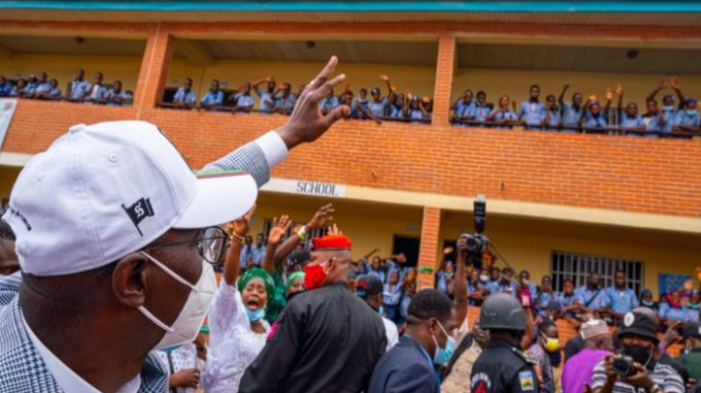 By Ade Oye
Lagos State Governor, Babajide Sanwo-Olu, on Thursday, unveiled four magnificent school buildings across three Local Government Areas (LGAs) in Lagos State.
The multi-level ultra-modern buildings are part of the infrastructure projects completed by the Ministry of Education under the Lagos Metropolitan Development and Governance Project (LMDGP), covering 970 basic and secondary schools across the State.
Sanwo-Olu inaugurated the school projects amid praises by teachers, students and parents.A
As the beneficiary schools were called upon to formally open the buildings, the Governor was warmly received by cultural troupes made up of pupils across the LGAs.
Four-storey buildings of 18 fully furnished classrooms each were commissioned by Sanwo-Olu in Fazil Omar Senior High School, Iwaya, Yaba; Onike Girls Junior High School, Onike-Iwaya, and Igbobi Junior High School, Somolu. The fourth school project is in Akintan Junior Grammar School on Clegg Street, Surulere, where the Governor opened a single-story building of 12 fully furnished classrooms.
Sanwo-Olu said his administration's intervention in education was predicated on revamping the learning environment and introduction on technology to raise quality and deliver excellent results.
He said education remained one of his Government's building blocks to achieve its vision of Greater Lagos, adding that the projects would further strengthen the effort to achieve the goals in "Education and Technology" pillar of his T.H.E.M.E.S Agenda.
In complementing the facility, Sanwo-Olu said the State Government had started to roll out fibre optics across the State-owned schools to aid learning through high-speed Internet connectivity