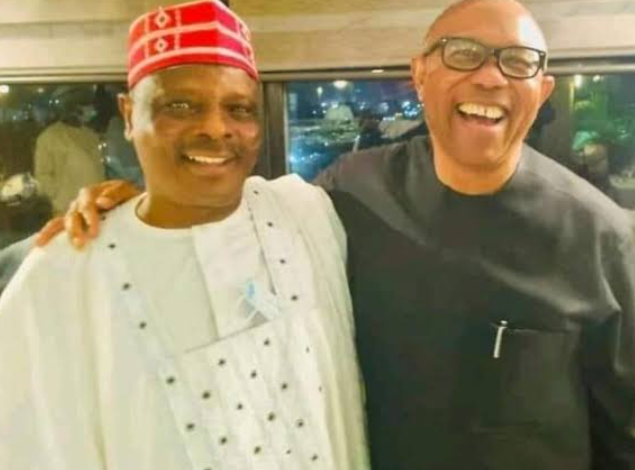 Politics
Seven political parties merge, adopt Peter Obi, Kwankwaso
AHEAD of the 2023 general election, strong indications have emerged that the People's Democratic Party (PDP) may lose 15 million votes to the decision of Mr Peter Obi to leave the party.
There are also feelers that PDP and the ruling party, All Progressive Congress (APC) are already in fear over this holy alliance by the seven merged political parties to adopt Obi as its flagbearer.
The political parties are the New Nigeria Peoples Party (NNPP), African Democratic Congress (ADC), Social Democratic Party (SDP), Allied Peoples Movement (APM), and People's Redemption Party (PRP), Labour Party (LP) and National Rescue Movement (NRM).
Meanwhile, the Coalition for Peter Obi's Presidential Aspiration has hailed the decision of the former Anambra State Governor to dump the Peoples Democratic Party.
The group, in a statement issued by its Chairman, Marcel Ngogbehei, urged Obi to form a formidable alliance with political groups to pursue his ambition to rule Nigeria.
Ngogbehei commended Obi for listening to the advice of the 23 support groups backing and marketing his aspiration, to dump the Peoples Democratic Party.
"The statement signed by its Chairman, Marcel Ngogbehei, said: "We are delighted that the former governor of Anambra, Mr Peter Obi listened to the request of his 23 support groups to dump the Peoples Democratic Party (PDP), following the shenanigans going on inside the party ahead of the party's presidential primary.
"With the recent development, it is obvious that PDP has automatically lost 15 million votes because of Peter Obi's decision to dump the party.
"We, therefore, urge Mr Peter Obi to look for Nigerians of like minds and vie to be president of the Federal Republic of Nigeria in the forthcoming 2023 general elections.
It would be recalled that Obi had on Wednesday dumped the PDP for attempting to force him to contest as running mate to a Northern candidate.
A source close to the popular former Anambra State Governor said that he took the tough decision quit the PDP because the leadership of the PDP mounted so much pressure on him to accept as running mate to a northern candidate.
The Network reported that the PDP leaders held a series of private meetings with Obi where they insisted that they want their candidate to come from the North.
The Network gathered that Obi and his team refused the PDP offer to step down his aspiration to accept as running mate to a candidate from the North.
Investigation revealed that Obi became embittered when the PDP prepared a document with stern conditions for him to sign to accept the position of a running mate in 2023.
The source said that the PDP simply wanted Obi to 'sign away his life' but refused to disclose the content of the document.
The PDP decision put Obi on collision course with the South East regional position spearheaded by Ohanaeze Ndigbo that no Igbo aspirant should contest as running mate.