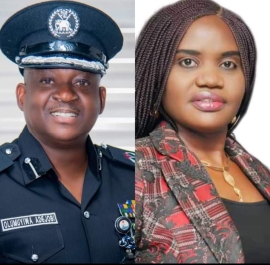 Security
Signatures boss, Cynthia Gregg lauds Force PRO for swift response to public complaints 
... names him 'digital PRO'
CITIZENS COMPASS – THE Chief Executive Officer (CEO) of Safety Signature, Dr. Cynthia Akpeji-Gregg has lauded the efforts of the public relations arm of the Nigeria Police Force led by Force PRO, ACP Olumuyiwa Adejobi for its swift response to public complaints in Nigeria. 
She said this has led to improved public confidence in the Nigeria Police.
Sharing her personal experience yesterday, on the highway in Ondo State with the President of the National Association of Online Security News Publishers (NAOSNP) , Oki Samson, the highly celebrated private security expert said she was on her way to the Southwest of Nigeria where she encountered some police officers who were extorting motorists with reckless abandon. She decided to put a call across the 'Digital PRO' as many now refer to ACP Adejobi.
To her amazement, Adejobi picked the call promptly and listened to the concerns raised. He also swung into action which led to the dismantling of the illegal checkpoint in Isua, Ondo state.
The Safety Signature boss thanked IGP Kayode Adeolu Egbetokun for empowering the Police public relations team across the country for excellence.
She further affirmed that by promptly addressing people's complaints across social media and other platforms, ACP Olumuyiwa Adejobi and other Police PROs excite the Nigerian society.