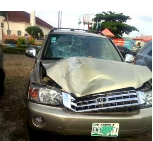 CITIZENS COMPASS– A Corporal with the Nigerian Army, Abayomi Ebun, has allegedly killed the Director of Finance of the Nigerian Armed Forces Resettlement Centre (NAFRC), Brigadier General O.A. James, in a fatal accident which occured in Lagos.
The tragic incident occured on Tuesday night at NAFRC when the Corporal believed to be acting under the influence of alcohol knocked the Army General down with his car.
The senior officer was said to have died from injuries he suffered as a result of the accident which occured at about 10:30p.m.
It was learnt that the Brigadier General was taking a walk to his apartment inside the NAFRC barracks when he was hit by the Corporal.
The Corporal who works in NAFRC Barracks, Abuja, was said to have travelled to Lagos to see his family while the Army General was newly deployed to Lagos from Abuja
Citizens Compass gathered that Abayomi was driving recklessly when his superior officer was knocked down and was rushed to the NAFRC Medical Centre but was confirmed dead.
The corporal is currently being interrogated following his arrest.
The Nigerian Army is yet to make an official statement as regards the incident.