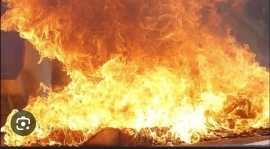 CITIZENS COMPASS – MANY staffers and patients of the University College Hospital (UCH), Ibadan, Oyo State, scampered for safety when a section of the Hospital was gutted by fire on Saturday, August 19, 2023. 
The fire reportedly engulfed a part of the UCH building on Saturday.
At press time, emergency responders were at the scene to put out the fire.
The The Chief Medical Director of the hospital, Prof. Abiodun Otegbayo, said there was no cause for alarm over the fire outbreak. Otegbayo, while speaking with newsmen in Ibadan, said there was no reason to worry as the fire which engulfed part of the hospital early on Saturday has been put off.
He disclosed that the hospital management had immediately after the fire broke out alerted three different fire services which quickly mobilised their resources and arrived to put off the inferno.
"Contrary to a speculation, no patient was trapped in the inferno. But it affected part of the Intensive Care Unit (ICU) and one of the theatres," the CMD said.