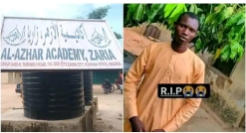 Education
Student dies after 130 strokes of cane
CITIZENS COMPASS —The Kaduna State Schools Quality Assurance Authority (KSSQAA), has ordered the closure of a school, Al-Azhar Academy in Zaria, following the death of a 16-year-old student who endured over 130 strokes of the cane. 
The deceased, Marwanu Nuhu Sambo, was reportedly flogged on October 20, 2023, by the principal and vice principal of the Schoo for absenteeism. 
KSSQAA was said to have swiftly responded by ordering the immediate closure of the school, sealing the premises as investigations into the incident commenced. 
Eyewitnesses accounts recounted the distressing scene, describing excessive and violent punishment inflicted on the young student, including strikes to the head by the vice principal.
Dr. Usman Abubakar Zaria, the Director-General of KSSQAA, expressed deep concern and personally led a fact-finding team to understand the sequence of events. The team engaged with the victim's family, schoolmates, and visited the Divisional Police Headquarters where the principal and vice principal were detained. The victim's death was officially confirmed at Hajiya Gambo Sawaba General Hospital in Zaria.
The family of Marwanu Nuhu Sambo is demanding justice, prompting the Kaduna State Police Command to initiate an investigation into why he was given 130 strokes of the cane by the authorities at Al-Azhar. ASP Mansur Hassan, the police spokesperson, confirmed that the case is under active investigation.