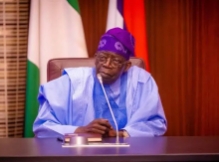 Politics
Student loan: Edo youths commend Tinubu 
CITIZENS COMPASS – THE National Youth Council of Nigeria, Edo State Chapter has commended President Bola Ahmed Tinubu for signing the student loan into law.
The Chairman of the Edo State Chapter of the National Youth Council of Nigeria, Moses Agwinede Joseph.
"On behalf of the youth of Edo state, I would like to commend President Bola Ahmed Tinubu for enacting the Student Loan Law. 
" I commend the former Speaker of the House of Representatives and now Chief of Staff, Mr. Femi Gbajabiamila for initiating the Student Loan Bill. 
"This law is an important step forward in addressing the issue of access to education in Nigeria, particularly for those who may not have the means to pursue their dreams of higher education. The student loan program has the potential to support a new generation of entrepreneurs, innovators, and leaders, who will contribute to the ongoing development and prosperity of Nigeria.
"In addition to supporting access to education, it is crucial that the federal government ensures that sufficient job opportunities are available to those who receive student loans. In the absence of meaningful employment, many students will struggle to pay back their loans, which could further exacerbate the economic challenges facing our country. 
"Therefore, I urge the Federal Government of Nigeria to prioritize job creation and skill-building programs for new graduates and other unemployed youth. By doing so, we can create a supportive ecosystem for students and contribute to a dynamic and prosperous future for our country.
"I believe that this is an important moment in Nigeria's history, and that the Student Loan Law represents a strong commitment to investing in our future.
" I call on all stakeholders to work together to build a bright and inclusive future for Nigeria and its citizens."