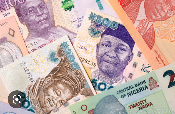 CITIZENS COMPASS– THE Supreme Court of Nigeria has ruled that the older denominations of the N500 and N1,000 notes will remain legal tender till December 2023.
The court said that the Federal Government acted unconstitutionally by not carrying the State Governments in the naira redesign policy.
The apex bank's judgment was sequel to a suit brought by some state governments.
The apex bank said that the older denomination notes will run as legal tender with the new ones up till December 2023.
CBN governor Godwin Emefiele and Nigeria President Muhammadu Buhari… PHOTO: Twitter/NigeriaGOV
Supreme Court on Friday extended the validity of old naira notes till December 2023.
The Supreme Court faulted the naira redesign policy by the Central Bank of Nigeria (CBN), declaring the naira notes swap implementation invalid and an affront to the 1999 Constitution.
Justice Emmanuel Agim, who read the lead judgment, held that the preliminary objections by the defendants (the Attorney General of the Federation, Bayelsa and Edo states) are dismissed as the court has the jurisdiction to entertain the suit.
Citing Section 23(2)1 of the constitution, the court held that the dispute between the FederaL Government and states must involve law or facts.
The apex court further held that President Muhammadu Buhari in his broadcast admitted that the policy is flawed with a lot of challenges.
The court said the policy has led to some people engaging in trade by barter in this modern age in a bid to survive. The court added that the President's disobedience of the February 8 order, is a sign of dictatorship.
The Supreme Court judgment comes three weeks after President Muhammadu Buhari declared that old 500 and 1000 naira notes have ceased to be legal tenders in Nigeria.
Buhari, however, ordered the CBN to allow the old 200 naira notes and redesigned 200, 500 and 1000 naira notes to coexist.
The president said only the 200 old naira notes will continue to be legal tender till Monday, April 10.
CBN earlier announced that all naira notes will cease to be legal tender from Friday, February 2023.
Kogi, Kaduna, and Zamfara state governments sued the Federal Government at the Supreme Court and called for a nullification of the CB deadline. More than 10 states have joined the suit.