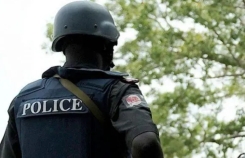 Crime
Suspected car snatcher in Police net
… gang members on the run
CITIZENS COMPASS -THE Nigeria Police Force, Zone 2 Command, Onikan, Lagos State, has arrested a suspected car snatcher along Fagba Abule Egba area of the State. 
SP Hauwa Idris Adamu, Zonal Public Relations Officer, Zone 2 Command hq Onikan Lagos, in a statement on Saturday, August 5, 2023, said the arrest took place through a painstaking operation which she narrated thus, "on the 22nd of July 2023 at about 12:50am , intel was received by the *AIG Zone 2 , Muhammed Ali Ari* that along Fagba Abule Egba Area, one suspect by name Olamide Tailor and his friend Habeeb now at large stopped a Corolla Saloon car, Ash in colour driven by an Uber driver one Mr Gbadamosi Adewale. The suspect told the driver to drop them at Fela's shrine, Ikeja.
"While on their way, they ordered the driver to turn back to where he picked them from under the pretence, that Habeeb has forgotten his phone at the hotel, the Uber driver obliged.
" When the Uber driver stopped at the point he picked them, one of  the suspect Habeeb who is now at large came out of the car pretending to be on a call and later came back into the car and sat behind the driver, at this time he had grinded pepper in his hand. 
"He subsequently applied the pepper in the victim's eyes which forced him (driver ) to jump out of the car shouting "thief thief " and Olamide Tailor took over the car and drove away . 
" Consequently, on receipt of the information, the AIG Ari Mohammed Ali fcia pcs+ swung into action ,detailed a team of detectives from Monitoring Unit who immediately tracked the said car and apprehended one of the suspect who is currently giving useful information on the matter.
"In the interim, investigation is ongoing, the arrested suspect will be arraigned in the court of competent jurisdiction at the conclusion of our investigation. 
" In the light of the foregoing, members of the public particularly commercial drivers have been advised to always monitor the antics of their passengers with sinister intentions pls."