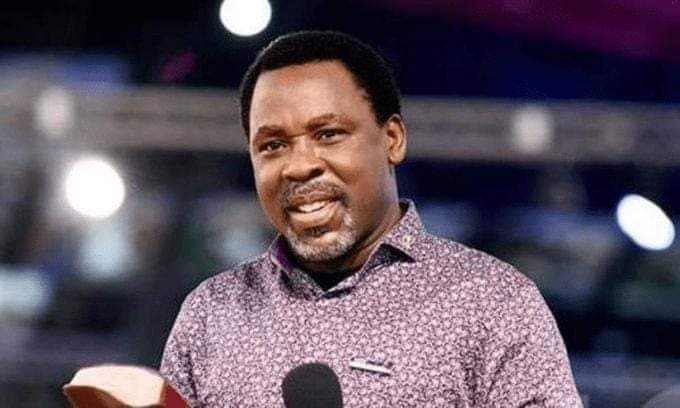 TWO artisans at Victoria Garden City (VGC), area of Lagos State,  have reportedly  exchanged blows during an argument over the late  founder of Synagogue Church Of All Nations (SCOAN), Prophet Temitope Balogun popularlly known as TB Joshua.
According to eye witnesses' account, the incident occurred on Saturday, at a hangout spot near North-West Petrol Station on the Lekki-Ajah expressway when the artisans a carpenter and bricklayer engaged in fisticuffs over the late clergyman.
The cleric who was buried on Friday, July 9,  was born in Ondo State on June 12, 1963 and died on June 5, 2021.
An eye witness, Mr. Balogun Haruna,  said trouble started at about 1 pm when the carpenter joined a conversation about the late cleric. He said,
"We were drinking and gisting when someone mentioned the death of TB Joshua. The carpenter said some terrible things about T.B Joshua claiming he used diabolical means but the bricklayer warned him to stop saying 'rubbish' and that he would not sit and tolerate any negative conversation about the late Prophet.
"The man said it was when he started attending Synagogue Church that he built a house at Igando and bought his car.
"The other guy insisted TB Joshua was not a real man of God. As the argument continued, a fight ensued, the carpenter was injured and the scene turned bloody."
According to him, the attention of some Policemen and passersby in the area were later drawn to the scene to broker peace.
The incident did not record loss of lives or injuries.