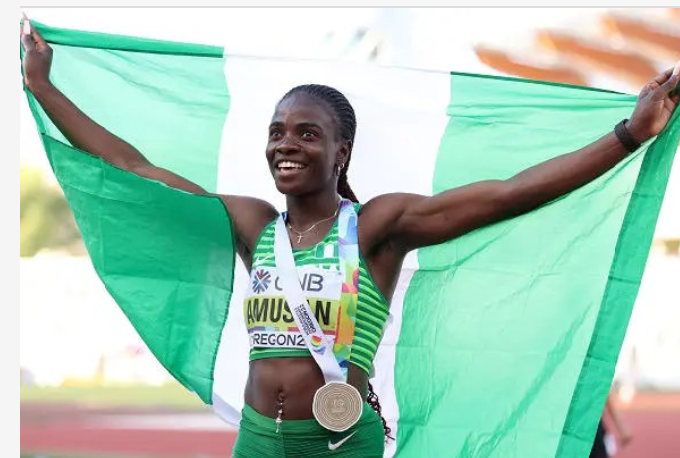 CITIZENS COMPASS- 25-year-old Tobi Amusan has broken the world record to emerge the winner of the women's 100 metres hurdles at the 2022 Commonwealth Games in Birmingham, United Kingdom.
She also set a new games record of 12:30 seconds at the Alexander Stadium on Sunday.
With her performance, the she is the first world champion and the first Nigerian athlete to win gold at the event.
She had broken the world record to ignite hope and splash rare smiles on the faces of a traumatized Nigeria citizenry when she grabbed Nigeria's first gold at the World Athletics Championships at Oregon.
Amusan, who had obliterated the world record in an astonishing semi-final where she clocked 12.12sec, powered over the line at Hayward Field in 12.06sec.
Jamaica's Britany Anderson took silver in 12.23sec, while Olympic champion Jasmine Camacho-Quinn of Puerto Rico claimed bronze in 12.23.
Honestly, I believe in my abilities but I was not expecting a world record at these championships.
"The goal is always just to execute well and get the win. So, the world record is a bonus. I knew I had it in me but I could not believe it when I saw it on the screen after the semis.
"Before the final, I just tried to stay calm and to do my best. I took a deep breath knowing that I have some goals to accomplish and it worked pretty well.
"I knew it was very fast but not this fast,"
Devynne Charlton òf Bahamas (12.58secs) took silver while England's Cindy Sember (12.59secs) got bronze.