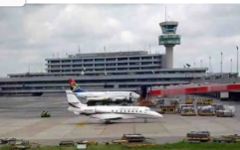 General News
Travellers stranded as protests rock Lagos airports 
CITIZENS COMPASS – Scores of travellers were stranded on Monday, in Lagos, as aviation workers protest poor working conditions and entitlements at
the Murtala Muhammed Airports in Lagos.
The workers blocked access roads to both the international and domestic wings of the airport. 
The protests grounded vehicular activities  along Airport Road in the Ikeja axis of Lagos with many travelers stranded.
The protest kicked off after a meeting called by the Nigeria Civil Aviation Authority.
Capt. Musa Nuhu, Director-General of Civil Aviation, convened the meeting to persuade the unions to call off their planned two-day warning strike.
The meeting was attended by union representatives.
Emmanuel Meribole, Permanent Secretary, Ministry of Aviation, was also present at the meeting.
However, the meeting ended in a stalemate.
The unions comprise the National Union of Air Transport Employees, Air Transport Services Senior Staff Association of Nigeria; the National Association of Aircraft Pilots and Engineers, and the Association of Nigerian Aviation Professionals.
They are demanding, among other things, that the planned demolition of aviation agencies' headquarters in Lagos be postponed, as well as the implementation of service agreements negotiated with aviation agency employees.
Comrade Frances Akinjole, Deputy General Secretary of ATSSSAN, stated in a brief interview last night following the meeting, "As I speak to you, nothing has changed."
"If you do not hear from the General Secretary, the strike will continue."
He later sent a text message saying, "The strike goes as planned."
As at the time this report was filed, the unions were singing solidarity songs, and security operators, including police and military officers, are on the ground.