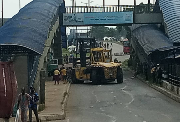 CITIZENS COMPASS- TRAGEDY struck in Ikorodu area of Lagos State, on Wednesday, November 30, 22, when a ruck driver died in an accident involving a 40ft containerized truck in Okeriya area..
The accident occurred in the morning, inward Agric bus-stop.
Many motorists groaned as they were stranded for hours as both axis of the road including Bus Rapid Transit (BRT) were shut down.
The aftermath of the traffic jam made some car owners to make a U-turn back home.
The accident was said to have occurred when the truck driver lost control and hit a pedestrian bridge pillar in the area.
The Permanent Secretary, Lagos State Emergency Management Agency (LASEMA), Dr Olufemi Oke Osanyintolu attributed the cause of the incident to brake failure.
In his on+the-spot assessment, he said, "Upon arrival of the Agency's LRTs to the scene of incident, an articulated truck conveying a 40ft container was discovered involved in a solitary accident at the above mentioned location.
"The accident was attributed to brake failure and loss of control that led to crash of the truck and its 40ft container on the main road, hitting the BRT demarcation and pedestrian bridge pillar, which effectively shut down the entire Expressway.
"The trapped truck driver in the cabin who lost his life in the incident has been extricated with light duty rescue equipment in the ongoing operation and duly handed over to officials from the State Environmental Health Monitoring Unit (SEHMU).
"The Agency's sophisticated heavy-duty equipment are in the process of recovering the crashed articulated vehicle, while an Agency's flat body truck has equally been deployed for recovery of the 40ft container.
"Motorists plying that axis and those with the intent of traversing that area are implored to be patient and use alternative routes as directed by Emergency Responders, as traffic has been diverted during this recovery period.
"Kindly bear with us while the operation lasts."