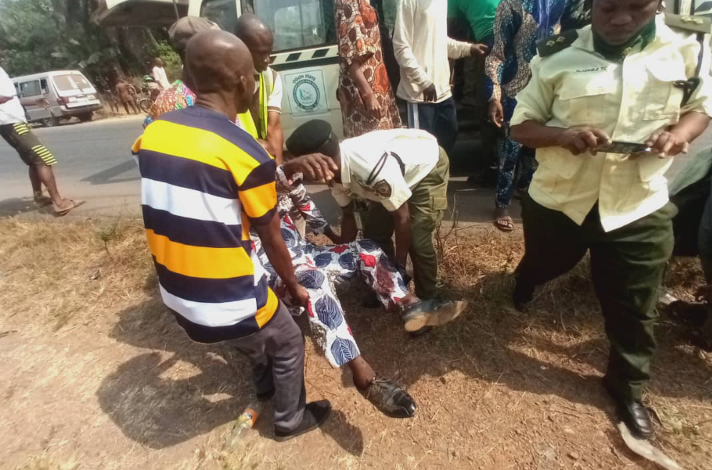 Community
Two dead, 10 injured in Ogun multiple accidents 
A MULTIPLE vehicle-collision accident on Wednesday, killed two persons and injured 10 others at Akankan Village via Odeda on Abeokuta/Ibadan Highway, Ogun State.
This occurred barely 24 hours after four people died and 12 others were injured on the Ogun State axis of Lagos/Ibadan Expressway.
The incident which occurred at about 2.20pm,involved a Sprinter bus with number plate LSD 937 HE, Ford bus with number plate AKM 801 ZW and an unidentified truck.
It was learnt that 16 occupants (eight male adults, six female adults, a male and female minors out of which a female adult and male minor were presumed dead.
According to eyewitnesses' account, the injured victims were taken to General Hospital, Odeda while the bodies were  deposited at the morgue. 
As gathered, one of the vehicles was journeying towards Ibadan while another was journeying inbound Abeokuta.
However, behind the one going towards Ibadan, was a truck, whose driver in an attempt to overtake the bus, hit it from the rear , which resulted into a head-on collision with the bus coming from Ibadan.
The resultant effect led to the death of a five years old minor and a woman.
It was learnt that 12 other passengers sustained varying degrees of injury.
Miraculously, parents of the five years old minor who were also in the bus were said to have escaped death but sustained injuries.
Babatunde Akinbiyi, Spokesperson, Ogun State Traffic Compliance and Enforcement Agency TRACE, who confirmed the incident said while the bodies and injured victims were taken to the General Hospital Odeda, the accidented vehicles have been taken to the Divisional Police Station, Odeda.
"While TRACE Corps commiserate with the families of the deceased, motorists are again urged to exercise caution while overtaking and ensure it is carried out when it is safe to do so."