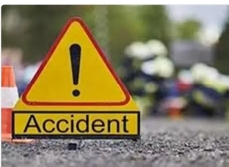 CITIZENS COMPASS – Two persons reportedly lost their lives in separate auto crashes which occurred on the Lagos-Ibadan expressway.
The crashes occurred according to the Federal Road Safety Commission (FRSC). 
The first collision occurred at midnight near Heyden Petrol Station and involved two adult males.
Ogun State FRSC spokesperson, Florence Okpe, disclosed that one person lost his life in the accident, while the second escaped unhurt.
She said the person was hit by a hit and run driver. 
The body was deposited at Idera morgue in Sagamu.
to her, "The second accident took place around 04:25a.m, near the toll gate on the Sagamu-Abeokuta route."
Okpe stated that a Mack tipper truck (JBD483ZY) was involved in the crash and appeared to be speeding, resulting in the loss of control.
The probable cause of the solo accident was excessive speed, which led to loss of control and subsequent collision," explained Okpe.
The crash involved two adult males, with one fatality and the other escaping unscathed.
The deceased's body was also taken to Idera morgue in Sagamu.