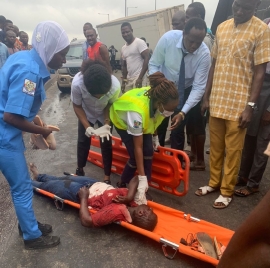 Community
Two die, three escape death on Eko bridge 
.. five injured 
By Bose Adelaja 
CITIZENS COMPASS – Two people were feared dead while three others escaped death by whiskers in Lagos, on Wednesday, August 9, 2023, when a truck rammed into five other vehicles on Eko bridge. 
The accident occurred at day time inwards Alaka. 
Five persons, three adult males and two adult females were said to be injured in the multiple accident. 
Vehicles involved are an unidentified flat bed truck, a Blue Toyota Corolla with number plate, LND-217GX, Grey colour Toyota RAV 4 with number plate, LSD-406AU, Blue colour Toyota Camry with number plate, AKD-606HH, an unidentified Isuzu minibus  (korope) and a white colour truck.
As gathered, the blue colour flat bed Mack truck reportedly suffered brake failure and lost control while descending the bridge. 
It was learnt that it rammed into other vehicles in the process. 
Both the Permanent Secretary, Lagos State Emergency Management Agency(LASEMA), Dr Olufemi Oke-Osanyintolu and Adebayo Taofiq
Director, Public Affairs and Enlightenment Department of Lagos State Traffic Management Authority (LASTMA) confirmed the accident to Citizens Compass. 
In his updates, Adebayo said one of his officials, Akinde  Olusola 'Zebra' (Zone 3 Iponri) led the rescue team. 
He said the accident recorded two deaths (male and female) with five others seriously injured.
"LASTMA Olusola confirmed further that the fatal accident involved six private vehicles including a fully loaded 'MAC' truck with registration number T-1501 LA.
" According to preliminary investigation, the loaded 'MAC' truck while on a top speed collided with 5 other private vehicles including a commercial mini bus (Korope) as a result of brake failure. 
" He disclosed further that the five rescued accident victims and two bodies (male and female) were immediately taken to nearby General Hospital with an ambulance belonging to LASEMA Response Unit (LRU).
" The six vehicles involved in the fatal accident include a fully loaded truck (T-150 IL), Lexus Jeep (LSP 795 EW), Toyota Camry (AKD 606 HH), Toyota (LND 217 GX), Mini- bus (FKJ 77 YG and (LSR 952 HZ)." He said. 
LASTMA General Manager, Mr Bolaji Oreagba cautioned motorists especially truck drivers to always ensure their vehicles are in good condition before embarking on any journey across the State.
While maintaining that the Agency would not relent in enlightening motorists, particularly commercial bus drivers on inherent dangers involved in over speeding, he however sent his condolences to families of the deceased.
Other emergency responders at the scene of the accident include Lasema Response Unit (LRU), Federal Road Safety Corps and Police men from Iponri Division. 
In his updates, Osanyintolu said, "Upon arrival at the incident scene, a multiple vehicular accident involving two trucks and six cars was found to have occurred. 
" Initial investigations revealed that a blue coloured flat bed Mack truck with registration number unknown reportedly lost control of its brakes while descending the bridge and rammed into the vehicles in front of it. 
" Two lives were lost (One adult female and One adult male) while a total of seven people ( three adult males and two adult females) suffered various degrees of injuries and have been rushed to the Federal Medical Centre (FMC), Yaba.
" Females escaped unscathed. Vehicles involved are:
A flat bed truck with registration number unknown

Blue Toyota corolla with registration number LND-217GX

Grey coloured Toyota rav 4 with registration number

LSD-406AU
Blue coloured Toyota camry with registration number AKD-606HH

An Isuzu commercial minibus  (korope) with registration number unknown

A white coloured truck
"Responders include LASEMA Response Team, LASEMA Paramedics, FRSC, LASTMA, LASAMBUS, LASG FIRE and Nigeria Police."