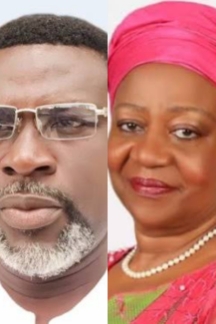 CITIZENS COMPASS– URHOBO Solidarity Frontiers (USF) has thrown it weight behind the  newly inaugurated chairman of the Niger Delta Development Commission (NDDC), Lauretta Onochie, and her board members on their recent appointments by the Senate and inauguration by President Muhammadu Buhari.
The group which at a recent visit to a chieftain of People's Democratic Party (PDP) and former Delta State Gubernatorial aspirant, Chief Sunny Onuesoke stated that the Onochie-led NDDC Board would bring fresh air to Niger Delta region.
They assured that their regime would not disappoint Nigerians.
The group president, Chief Steven Agadagba thanked Onuesoke for his steadfastness and support  for Urhobo people,  advising him to  put party differences aside by appealing to his loyalists in the Niger Delta region  particular Delta State in general to support Lauretta Onochie.
The group said her appointment is a clear deposition of  the wealth of experiences she had garnered over the years.
According to the Group, the accolades and congratulatory messages that greeted her screening and subsequent confirmation on the floor of the Nigerian Senate from the women folks, Niger Deltans and social media influencers are proofs that she had  worked so hard and created the necessary advantages to convince all members of the National Assembly and others of  her potentials and energetic abilities as demonstrated during your screening.
"We must say that you are all fit for the various positions as assigned by Mr President and we encouraged every member of the Board to surpass their predecessors in terms of development, transparency and total care for the vulnerable in the Region.
"We have no doubt in your abilities to excel and make Niger Deltans proud. As our motto connotes, Peace and Development, we wish to work with you in bringing peace and development to our great region, the revenue base of the nation,"  he said.
Responding, Onuesoke thanked the Group for  pledging their solidarity for  Onochie in the course  of the visit.
He added that before her inauguration, he was among those who campaigned for the appointment of Laurett Onochie, adding that it is a great thing that God had answered  his  demand and that of others for her appointment.
He assured that Onochie with her wealth of experience will perform excellently in her new jobs to the benefit of all and sundries in Niger Delta region.