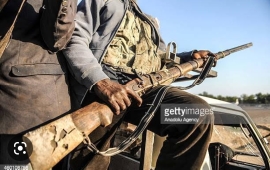 CITIZENS COMPASS– A yet-to-be-identified official of the Abia State vigilante group has reportedly shot dead, a 27-year-old staff of De Choice Eatery in Umuahia, Abia State.
The deceased, Izuchukwu Mbakwe, was said to be shot at a very close range on his lap on Sunday, March 26, 2023, leading to his death.
Mbakwe, a native of Umuosu Okaiuga Nkwoegwu in  Umuahia North Local Government was said to have arrived for his normal duties when the Internal Auditor invited a Vigilante Security Guards and demanded his arrest over a missing "Nokia Torch" belonging to the company.
The overzealous guards were said to have stripped Izuchukwu and beat him to a stupor, and shot him at his lap at close range with a Pump Action Riffle, which affected his Femoral Artery.
It was learnt that it took an uproar from customers for the victim to be brought to FMC Umuahia for treatment.
He, however, lost his life on the point when he was about to be referred to a specialist hospital. He has been since deposited at the morgue.
A colleague of the deceased alleged that they are being owed up to 5 months salary arrears.
Mrs Adaora Chukwuemeka the elder sister of the deceased confirmed that her brother has not been paid for five months, wondering why the employer has not communicated with the family.
She said the late Mbakwe was left under the rain to bleed to death, calling for justice for the brother.
The state Police Public Relations Officer, SP Geoffrey Ogbonna, has confirmed the incident.
He faulted the action of the vigilante operatives, wondering why the accused was not handed over to the police for investigation.
He said the suspect has been apprehended and his firearm recovered
-The Punch