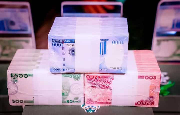 CITIZENS COMPASS– The Governor, Central Bank of Nigeria, Godwin Emefiele, has said law enforcement agencies have been arresting hawjers of new naira notes across the country .
He disclosed this on Friday, February 3, 2023, while addressing a press conference.
He said the apex bank's decision on the deadline to phase out the old naira notes remains as planned.
He said, "As the new deadlines approach, please permit me to express our sadness over the unscrupulous and unpatriotic conduct of some of our colleagues in the banking industry, whose greed and malevolence are sabotaging the CBN's efforts. I assure you all that the enforcement agencies are on the prowl for these unpatriotic colleagues and their collaborators.
"A few of them involved in the sale of the new currency have been arrested by EFCC, ICPC and indeed the DSS; and let me assure all Nigerians that these unscrupulous persons shall face the full wrath of the law.
"On our part, let me assure all that the CBN possesses the capacity, manpower, and equipment and grit to produce and circulate the new notes and are doing all in our power to ease the inconvenience on all Nigerians , particularly the vulnerable Nigerians."
So far and since the commencement of this programme, he said, the CBN had collected about N2.1tn, leaving about N900bn.
He recalled that on 26 October 2022, the CBN received the approval of President Major General Muhammadu Buhari (retd.), to redesign the N200, N500, and N1,000 Nigerian banknotes.
He added, "By the approval, the redesigned banknotes will circulate concurrently with the old notes, up to 31 January 2023 after which date the old notes loses their legal tender status. However, given the need to improve the level of circulation of the new notes, the President magnanimously extended the deadline by another 10 days to 10 February 2023 for old notes to circulate as legal tender."
He assured that the CBN, working with the Deposit Money Banks and other important stakeholders such as the Economic and Financial Crimes Commission, the Independent and Corrupt  Practices Commission and the Nigerian Financial Intelligence Unit were working together to ensure that the ultimate goal, which was to deliver to all Nigerians, a new currency that meets global standards was achieved.
Emefiele said the CBN was aware of the difficulty being faced by Nigerians in accessing the new currency at this initial stages of its issue and circulation but wished to plead with all to show some understanding as everything was being done to correct some of the observed lapses in the implementation of this ambitious programme.
"Please, also permit me to say that this difficulty is transient given our strong belief that the ultimate gain of the policy to our country far outways the short run pains of today," he said.